Sachant que je suis l'un des auteurs du livre Disneyland Paris, de l'esquisse à la création, nombre d'entre vous m'ont demandé si je pouvais créer une page qui indiquerait les meilleures offres de séjours et ou l'on pourrait réserver directement des nuits d'hotels ou acheter des billets d'entrée aux parcs.
Voilà qui est fait avec cette page ou vous trouverez les meilleures offres de Disneyland Paris. Comment ça marche? Ca ne peut pas ètre plus simple: trouvez dans la page l'offre qui correspond le mieux à ce que vous cherchez ou au budget alloué pour votre séjour à DLP. Il y a trois sections: les Séjours à DLP qui comprennent nuits d'hotels et entrée aux parcs; Billets d'entrée uniquement; et offres spéciales ou vous trouverez notamment des entrées parcs aux meilleurs prix.
Une fois que vous avez trouvé l'offre qui correspond le mieux à ce que vous cherchez, cliquez dessus, vous serez transféré sur le site officiel de Disneyland Paris ou vous pourrez finaliser votre réservation ou explorer d'autres offres. TOUS les paiements se font directement avec Disneyland Paris, Disney and more ne prend PAS de réservations ou de paiements.
Trés prochainement, je créerais de nouvelles pages avec photos et description des hotels pour ceux d'entre vous qui ne les connaitraient pas. Vous trouverez en bas de cette page un plan vous permettant de situer chaque hotel.
Merci de mettre cette page dans vos favoris car de nouvelles offres spéciales de Disneyland Paris apparaitront régulièrement. Et si vous ètes un fan de Disney and more le fait d'utiliser ces liens apportera un peu de support au site, ce dont je vous remercie par avance!
NOTE for my foreign readers: for the e
nglish version of this page please go HERE
.
SÉJOURS DISNEYLAND PARIS - INCLUS NUITS D'HOTEL + ENTRÉES AUX PARCS
BILLETS D'ENTRÉES DISNEYLAND PARIS ET WALT DISNEY STUDIOS
DISNEYLAND RESORT PARIS OFFRES SPÉCIALES
Et voici un plan du resort pour repérer ou sont chaque hotel si nécessaire! Cliquer pour agrandir.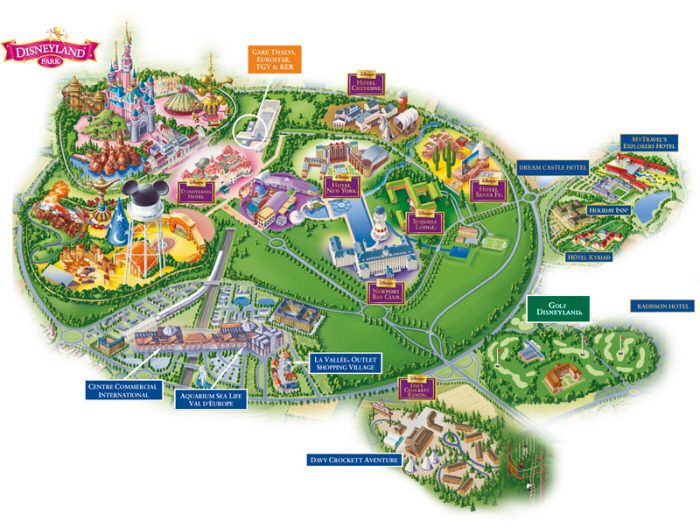 Photo: copyright Disney