If you go right now on the
official Pixar website
you'll find on the front page a tribute to Steve Jobs which include the picture above as well as the text below:
"Steve Jobs was an extraordinary visionary, our very dear friend and the guiding light of the Pixar family. He saw the potential of what Pixar could be before the rest of us, and beyond what anyone ever imagined. Steve took a chance on us and believed in our crazy dream of making computer animated films; the one thing he always said was to simply 'make it great.' He is why Pixar turned out the way we did and his strength, integrity and love of life has made us all better people. He will forever be a part of Pixar's DNA. Our hearts go out to his wife Laurene and their children during this incredibly difficult time."
- John Lasseter, Chief Creative Officer & Ed Catmull, President, Walt Disney and Pixar Animation Studios
Meanwhile, in Taiwan, Next Media Animation - the guys who are doing these Taiwanese animated news reports - did a sweet and tasteful animation in memory to Steve Jobs.
And all over the world Steve Jobs fans did great tributes to Steve. Even at Walt disney World where WDW flags were flying at half mast in honor of Steve, who was also a member of Disney board of directors.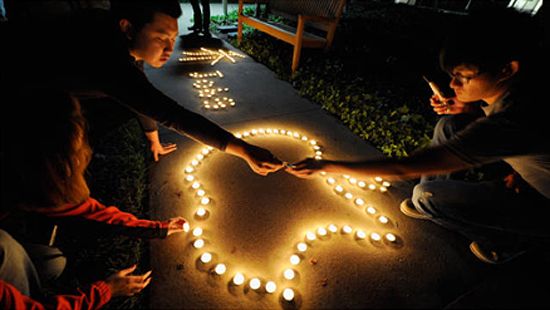 Of course all newspapers around the world did tributes to Steve and some designed great front pages but one of the most subtle was designed by french newspaper Liberation: just the Apple logo, crying. Very simple but smart cover.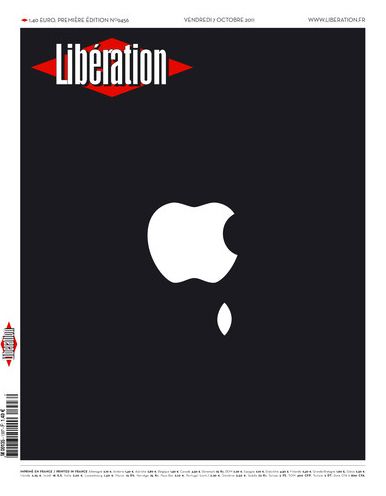 The day before Steve died was the one of the awaited iPhone 4s keynote. Steve fans will be happy to know that he watched the launch of the iPhone 4S in his home in Palo Alto, "sitting in his favorite single soft leather sofa chair and having apple juices with rice pudding, as his favorite" as a reliable source revealed to Cult of Mac:
"We don't have many details, but we have it from a good source that Steve Jobs watched the launch of the iPhone 4S from his home in Palo Alto. A special private video stream was set up for him to watch the event from home.
According to our source: "At the end of the show, he smiled as if to say 'All things are in good hands' but did not utter a word." Jobs died the following day."
Steve could leave our world in peace, his very last Apple device introduce once again a new technology which is going to change our world - with the advanced SIRI voice recognition.
But may be Steve Jobs "changing-the-world-story" is not end yet as, according to Google's executive chairman Eric Schmidt, Steve Jobs may had plans for his vast $6.5 billion fortune: "Jobs had plans for a "third act," Schmidt told the New York Times, and hinted that he may yet have another huge impact through the fortune he leaves behind: "This is a man whose impact is equal to any global leader," he said. "He very much wanted to live and have a third act" beyond Apple's founding and its revival...All of that will unfold," he added. "I will say that he was a very thoughtful person, and he cared a lot about the world."
There is no doubt that you can definitely change the world with a philanthropic foundation and $6.5 billion, and i can't wait to see if this will happen for real.
Finally, just check this incredible picture of Steve Jobs done with Mac Book parts by the designers at Mint Digital.