It's quite a while since the Disney and More Time Machine took you to a "Time" destination, and today we will go back to 1990 at the Disneyland Paris Preview Center.
The Disneyland Paris Preview Center was located near the Paris A4 Highway, and for French and European people it was the first encounter with what will be the future EuroDisney park - now Disneyland Resort Paris.
On these rare photos shoot by Daniel you will see that visitors of the Preview Center, thanks to the Imagineers, were able to discover the different lands of the park with renderings, models, costumes, and more...
Daniel even did this map of the Preview Center, showing the main four "rooms" - the Show room, the Theater, the store, and the restaurant.
A giant model of the park was displayed...
As well as the Sleeping Beauty Castle model...
A carousel horse was shown in the Fantasyland area...
And a model of Phantom Manor in the Frontierland section...
Pirates sculptures were displayed in the Adventureland area...
As well as renderings and cast-member costume...
Guests - like Daniel - could even board inside a Dumbo vehicle...
Or have a picture with C3PO in the Discoveryland area!
Here is the entrance of the theater where a preview movie about the future "EuroDisney" park was shown. As the park was not built yet most of the footage was showing Walt Disney World similar attractions!
Another area was showing renderings of the future hotels and Disney Village.
I want to give a special thanks to Daniel for these pictures, as photos of the Disneyland Paris preview center are really rare!
The DLP book is reprint next week! I remind you that the pre-order period for the DLP book is ending soon and that you still can order a collector copy with a 20% discount on the book final price. So, go ahead and place your pre-order now for a collector's edition copy while you can get this special offer on this wonderful book!! To know how to order and send your payment
please go HERE
. Paypal or bank wire transfer payments are welcome.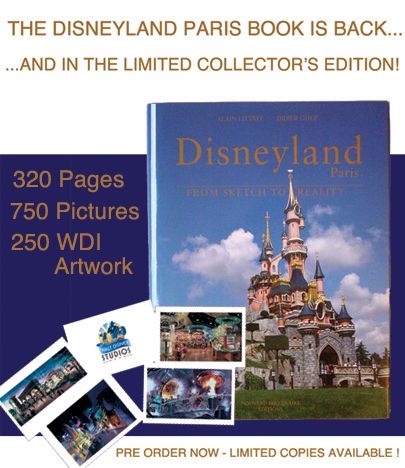 All photos: copyright Daniel Rous