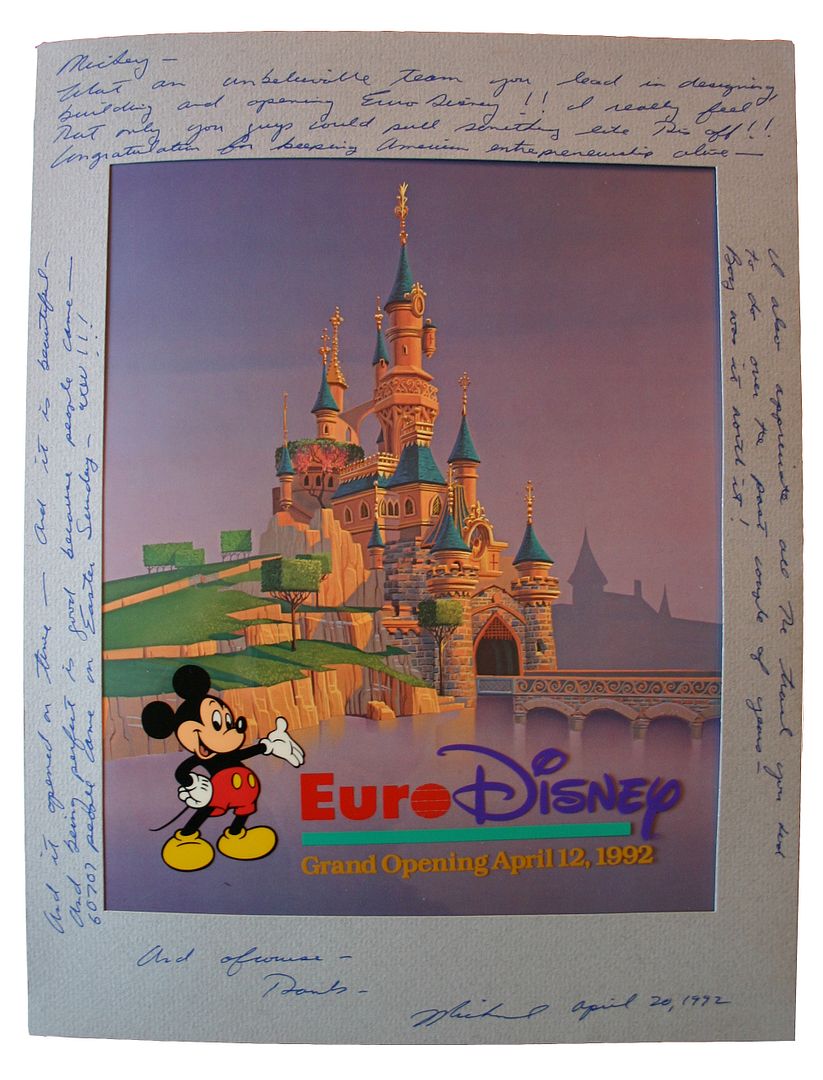 Always celebrating Disney and more 5th Anniversary i have another unique document for you today, and this one is thanks to Thorsten, a faithful D&M reader, who is collecting Disney memorabilia. Thorsten acquired some years ago this incredibly rare document which is a limited edition cel released for DLP opening in 1992... but this one is signed by Michael Eisner! And not only it is signed by Eisner but there is a long dedication for Mickey Steinberg who was Disneyland Paris Project Director at Walt Disney Imagineering!
This is for sure a unique piece of DLP memorabilia and because Michael Eisner text is written all around the picture, so not easy to read, here below is the transcript of what Michael has written for Mickey Steinberg as well as pictures of each sides with the text. As you will see Eisner is in heaven and love the park, and i'm sure that DLP Imagineers who built the park will be happy to learn how much Eisner loved the final result. All my thanks to Thorsten for this great document!
Here is the transcript of Michael Eisner text below, if someone think we did a mistake, thanks to let me know!
Mickey –
What an unbelievable team you lead in designing, building and opening EuroDisney !! I really feel that only you guys could pull something like this off !!
Congratulation for keeping American entrepreneurship alive-
I also appreciate all the travel you had to do over the past couple of years – boy was it worth it !
And it opened in time – And it is beautiful – And being perfect is good because people came – 60.707 people came on Easter Sunday – WOW !!
And of course –
Thanks –
Michael Eisner April 20, 1992


If you wish to celebrate too Disneyland Paris beauty i remind you that the Disneyland Paris book is always available in its collector edition and that there is even a special offer on it running all this month! And, good news, we expect to receive the printer shipment and ship all copies anytime soon so you won't have to wait too long before your copy will be shipped! Place your order now for a collector's edition copy while you can get the special offer on this wonderful book! To know how to order and send your payment
please go on the DLP book page HERE
.