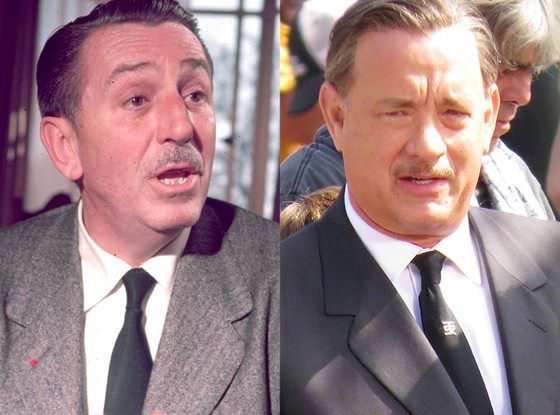 As you know Tom Hanks is playing Walt Disney in "Saving Mr. Banks" currently shoot at Disneyland and apparently the role brings a certain amount of pressure to Tom, who seems to be aware that Disney fans don't want to be disappointed:
"I don't want to piss anybody off. I want to be accurate, more than anything else," Tom told E! in a short interview: "

John Lee Hancock

is the director, and it's really the story of

Emma Thompson

more than it's about me, so, you know, I don't want to screw up." Good to hear this, Tom.
And he added: "They haven't fired me, so so far so good!". The movie centers on how

Mary Poppins

came to the big screen and Emma Thompson plays Mary

Poppins

author P.L. Travers ( picture below ).
Hanks explained his researches for the role: "I went up to the Disney Family Museum at the Presidio in San Francisco. At first, I just went up to meet
Diane Disney
, who is Walt's daughter, and some of the staff up there, but then they invited me back up again on a day it was closed.
"They just opened up all the exhibits for me, and I saw every piece of film and heard every piece of audio," he continued. "I also have like 39 hours of informal interviews. It's one thing to see him when he talks on TV but another thing to get him when he's just having a conversation."
So, what did Tom Hanks learned about Walt that surprised him? "He's a fascinating guy, because what we have is this benevolent animator who would introduce us to his cartoon characters. But what he was was very tough, competitive and a very loyal businessman that invented an art form that is still going great guns today. To Walt Disney, ladies and gentlemen!"
And the mustache he's grown to channel Walt Disney is apparently not a hit in Tom Hanks household. "She hates it!" joked Tom about his wife
Rita Wilson
.
"
But it's not as bad as a few other things she's had to endure."
E! also said there is "one aspect of Disney's legacy that won't be tackled in the movie: the long-running urban legend that the animator had himself cryogenically frozen. "That's an interesting dog's tale. It's not true," Hanks shot us down before coyly adding, "At least that's what I've been told to say."
Part of text: copyright: E!