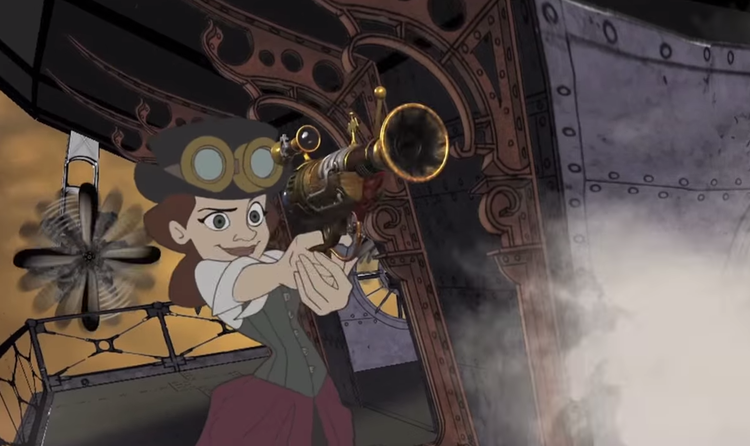 As we know Disney Animation Studios don't do anymore 2D animated films, the last one if i'm right was Princess and the Frog - which i loved - and also eventually Paperman as short animated. Traditional animation is such a beautiful art form that i never understood why Disney decided to stop 2D animation, specially considering that Princess and the Frog was so good.
Anyway, there's a team of Disney veteran animators who have joined forces to create a 2D animated steampunk adventure called Hullabaloo. It will be a hand drawn animated short that they hope will turn into a web or TV series or, even better, a feature length animated movie, which would be amazing!
Here's the synopsis of the story that revolves around two incredibly smart female inventors:
"Hullabaloo is the story of Veronica Daring, a brilliant young scientist who returns home from an elite finishing school to find her father–the eccentric inventor Jonathan Daring–missing without a trace! The only clue left behind points Veronica toward Daring Adventures, an abandoned amusement park used by her father to test his fantastical steam-powered inventions. There she discovers a strange girl named Jules, a fellow inventor who agrees to help Veronica in locating her missing father and discovering the secrets of his work."
James Lopez (The Lion King, Pocahontas, Paperman) and Rick Farmiloe (The Little Mermaid, Beauty and the Beast, Aladdin) are part of the animators team bringing this project to life. The project already has raised $108,000 dollars which is above their initial goal of $80,000 on Indiegogo, so hopefully we'll see this short 2D animated comes to life. Have a look at the video below presenting the project and showing clips of Hullabaloo.
Picture and video: copyright James Lopez Animation