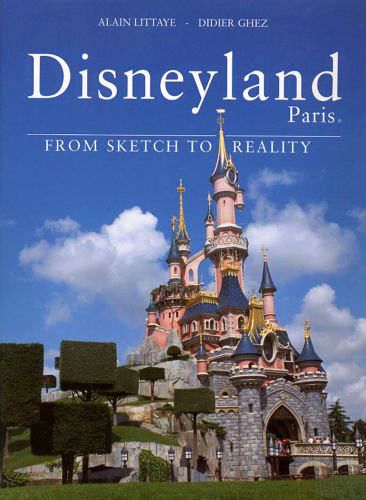 I remind you the special Christmas offer on the Disneyland Paris book "From Sketch to Reality", at the best price ever! You won't find a better Christmas gift for a Disney theme parks fan than the DLP book ( really! ) BUT if you definitely need the book to arrive for Christmas day please read with attention the lines below as, considering the shipping time, there is a deadline to place your order depending if you live in france or in the rest of the world!!!
Note: If you prefer to buy on eBay you can find now the Disneyland Paris book on eBay in ENGLISH HERE or in FRENCH HERE.
From November 1st to January 5th the book Disneyland Paris, From Sketch to Reality in its english regular and updated edition OR in its french collector edition is on sale at the special Christmas price of 60 € (+ 15 € shipping worldwide ). And you can order a signed edition ( which will be dedicated at your name or the name of the person you wish ) for 75 € instead of 100 € ( +15 € shipping worldwide )!
In addition, ALL buyers will receive a surprise gift that you will love!
SPECIAL NOTE to buyers with a shipping address to ITALY or BELGIUM : For shipments to Belgium or Italy, the amount of shipping costs is 25 €.

VERY IMPORTANT NOTE: Prices of this Christmas special offer are valid from November 1st to January 5th BUT ANY ORDER THAT YOU NEED TO GET FOR CHRISTMAS DAY SHOULD BE DONE - AND PAID - NO LATER THAN DECEMBER 5th FOR A SHIPPING ADDRESS OUTSIDE OF FRANCE. IF THE SHIPPING ADRESS IS IN FRANCE THE LAST DAY TO PLACE YOUR ORDER TO MAKE SURE YOU'll GET IT FOR CHRISTMAS IS DEC 15.
IF YOU DON'T NEED THE BOOK SPECIALLY FOR CHRISTMAS, THEN FEEL FREE TO PLACE YOUR ORDER UNTIL JANUARY 5TH. ALSO NOTE THAT NO SHIPPING WILL BE DONE BETWEEN December 18 AND January 5. In other words, if you really need to get the book for Christmas because it's for a gift, place your order as soon as possible, do not wait until the last moment because your order and the payment must be received no later than December 5 ( foreign orders ) or December 15 ( french orders ).
ALSO, Those who choose the autographed version please don't forget to mention in your email at what name the dedication must be done!
Do not miss this special Christmas offer, and place your order by email to: neverlandeditions@gmail.com
P
lease let me know in your email if you want the english or french edition!
You can pay by Paypal, credit card or bank transfer.
Paypal payment must be sent to the same email address - neverlandeditions@gmail.com - or you can also use the Paypal button below or on the right column by choosing between signed or unsigned copy, and how many copies you want.
The Paypal button works for both french or english edition but confirm me by email or in your Paypal payment which edition you want ( english or french ).
Also note that the Paypal button includes an additional discount for those who want to order 2 or 3 copies instead of one.
If you do NOT have a Paypal account you can pay by credit card, or bank transfer, please send me an email about it to: neverlandeditions@gmail.com
Note: For those of you who have never seen a copy of the book you'll find below a video presentation of the full book which will show you each of the 320 pages of the book.
Below you'll find a description of the book as well as visuals of the inside pages ( click on the mosaic pictures to see them in larger scale ).
Although you've probably heard about this beautiful book, many of you may have never seen a copy of it. So we've done a video presentation of the full book which will show you each of the 320 pages of the book! The book includes 750 pictures of the park, including 250 gorgeous renderings of Walt Disney Imagineering and stunning pictures of the park seen from above. The book is so big that it took us seven and a half minutes to show you the full book, and that's without stopping turning each pages! So, if you want to have a closer look at a page don't hesitate to stop the video.
Alain Littaye
Video: copyright Alain Littaye 2012