Super Typhoon Chan-hom is heading towards Shanghaî - and it's potential bad news for Shanghaî Disneyland as Chan-hom barrels towards Shanghai after lashing Japan's Okinawa island chain and Taiwan. More than 960 000 people in eastern China were moved to safety from coastal areas and 600 flights have been cancelled along with 330 long-distance bus journeys and several trains.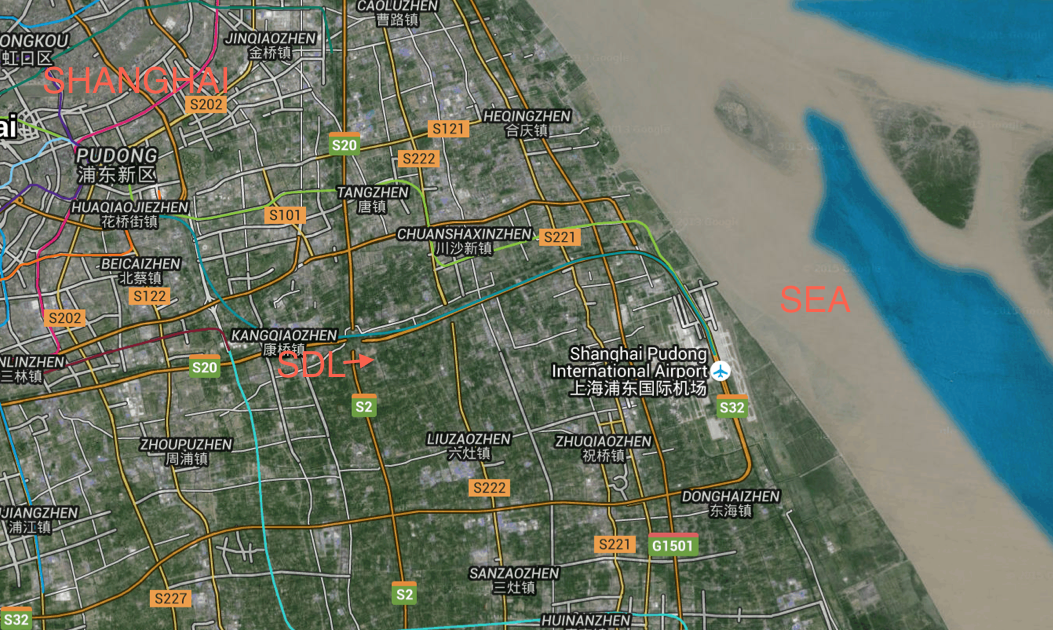 "The powerful storm could be the strongest typhoon to strike Zhejiang province, just south of Shanghai, since 1949, China's National Meteorological Centre (NMC) said.
The storm left five people dead in the Philippines earlier in the week and injured more than 20 people in Japan on Friday as strong winds uprooted trees and battered buildings, the Tokyo Broadcasting System broadcaster reported. Four people were also injured by falling trees in Taiwan when the storm buffeted the island on Friday.
Early on Saturday morning the storm was 235 kilometres south-west of Zhenjiang province and continued to gain pace as it travelled towards land, the NMC said. Super Typhoon Chan-hom's expected path would see it pass just to the east of the financial metropolis of Shanghai, after it makes landfall to the south of the city bringing with it winds of up to 210 kilometres per hour."
Shanghaî Disneyland is located where you see the "g" of Shanghaî on the above picture.
Why is it potential bad news? Because a landfall at the south of Shanghaî might put the typhoon very close to Shanghaî Disneyland, if not right over it. Right now SDL construction is of course not finished, the construction site is full of materials which most probably will "fly" with 210 km/h winds, not to mention the on site light houses for workers, etc… So this super typhoon could potentially be very destructive for SDL.
The latest forecast this Saturday afternoon is saying that Chan-hom is expected to skirt the coast before heading back out to sea rather than going further inland. Shanghai forecast the typhoon would "brush" within 100 kilometres (62 miles) of the city late Saturday or early Sunday as it veered into the Yellow Sea, according to a local government posting on its official blog.
Have a look on the CNN screen captures and the map i did for you. Even if the typhoon only "brush" Shanghaî coast, Shanghaî Disneyland is just at 8 - 9 km from the Yellow Sea and the typhoon path as shown
by CNN HERE
shows that Chan-hom heading towards SDL and will pass right over the park. CNN says that the alert over that area is "orange" and not "red" but you know how unpredictable typhoons can be so let's cross the fingers that it won't be too devastating and that Shanghaî Disneyland won't become the first Disney theme park to be hit by a typhoon before its opening.
Pictures: copyright CNN, Google Maps