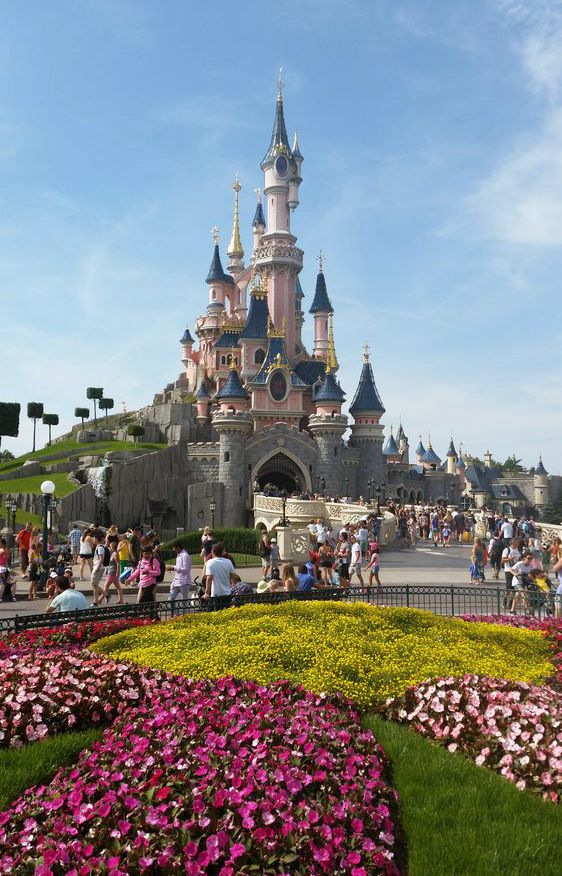 Here is some important piece of infos for those of you planning a trip next year to Disneyland Paris. DLP released an updated schedule of upcoming refurbishments with all closure dates up to 2017. As we know the whole park is under renovation and, land by land, one attraction after another are under refurb and in some cases will have an update. Have a closer look at the picture below to make sure your favorite attraction will not be closed during your next visit.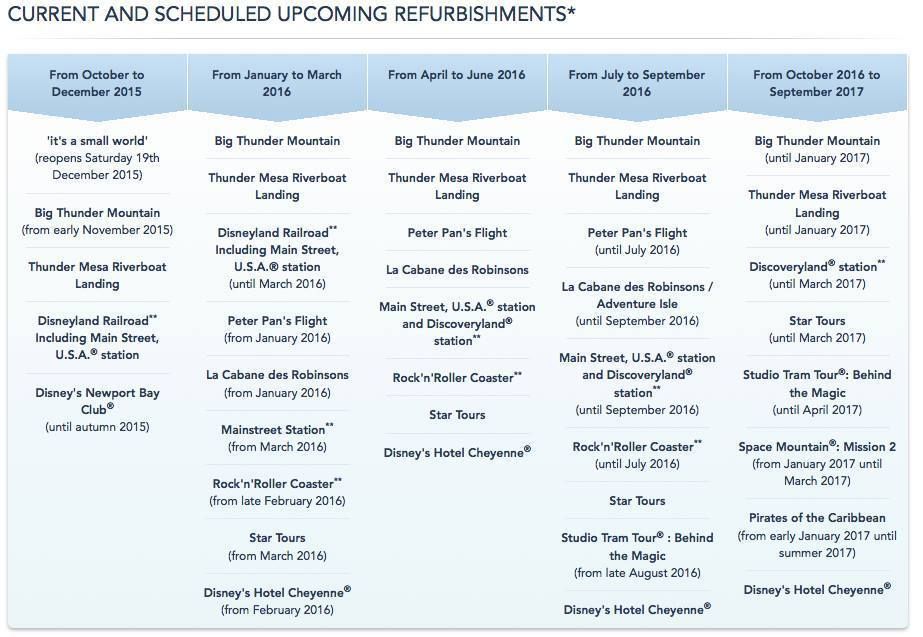 As you can see Big Thunder mountain as well as Thunder Mesa Riverboat Landing - i.e the river boats - will be closed starting this November 2015 and until ... January 2017! It looks a long time, and it is, but it's because they will do the biggest renovation in Frontierland since 24 years. Not only they will empty the lake, repaint Big Thunder and the stone arch, add in BTM the new finale with the mapping projection effect of the dynamite explosion and apparently enhanced the queue, but they will also renovate the geysers so these should finally work again during your next cruise on the Rivers of the Far-West. And the price to pay for all this is to have them closed during fifteen months.
It's a Small World is currently closed for refurb but a reopening on December 19 was announced yesterday and there should new surprises in it, others than the usual Christmas version. Main Street Station is also closed currently and will reopen in March 2016.
Peter Pan's Flight will close starting next January until July 2016 and strangely they apparently don't plan to introduce the new projection effects like they did at Disneyland, neither the new interactive queue like the one which opened at WDW. Instead this long closure will be for many technical renovations and may be a change of the track itself. Swiss Robinson Family Treehouse
and
Adventure Isle will also be closed from January until September 2016. And Pirates of Caribbean from January 2017 until Summer 2017. When the ride will reopen the Jack Sparrow Audio-Animatronics and other special effects should be installed.
Star Tours will closed for not only a refurb but also to install Star Tours 2 : The Adventure Continues from March 2016 until March 2017, so a whole year. And Space Mountain will go through another refurb from January 2017 until March 2017, and with a bit of luck may be this time they will install the new trains or the new harness system...
At DLP WDS the Rock'n Roller Coaster will be closed from late February until July 2016 which will make with Big Thunder Mountain two major DLP coasters closed during this period. Studio Tram Tour will also be closed from late August 2016 until April 2017 and there should be plenty of major changes on this one, including a new Star Wars scene where is currently the Dinotopia scene.
As for DLP hotels, after the long renovation of the Newport Bay it will be the turn of the Hotel Cheyenne to be renovated starting February 2016 and apparently at least until September 2017.
Yes, all this seems a lot of closures, specially considering that a lot of favorite rides are included in the list but this also happen only each 25 years and for DLP 25th anniversary you'll have a park which will look brand new - and that's a real good news!
Picture: copyright DLP Welcome, Disneyland Paris