Imagine packing up the kids and heading for that dream vacation to a Disney theme park in the south of the U.S, but not in Orlando, Florida… but in St. Louis.

It almost happened, and one of the few remnants of the Disney park that might have been goes on a Profile in History auction next week, 13 pages of 1963 blueprints spelling out plans for "Walt Disney's Riverfront Square" in St. Louis.
Back in 1963 Disney wanted to build a fully enclosed indoor theme park near the Mississippi River, blocks from the Gateway Arch that was under construction at the time.

Money doomed the project. Disney was willing to pay the cost of rides and attractions but wanted St.Louis leaders to foot the bill for the building, and they refused. Disney officially dropped out in 1965 and turned attention to Florida, where Walt Disney World is now the most visited theme park resort in the world.
More interesting is what we can see on these blueprints, and what attractions were envisioned for this St Louis indoor Disney theme park on three different levels. Five blueprints ( on 13 ) are visible on the auction site but we can see that a Circarama 360° attraction, an Audio-Animatronics show as well as a Diorama about people who helped to conquest the West were envisioned as well as a dark ride, a Blue Bayou boat adventure attraction / also called "Jean Lafitte Adventure" and which seems to be an early concept of the coming Pirates of Caribbean ride, and a Lewis and Clark Adventure ride, an idea which will be back in the concept of the Disney's America theme park, which also never was for different reasons.
Profiles in History released the five blueprints and in small size and low-res so you'll need to click on and then enlarge each picture below to see a bit more clearly, if i can say... You can see the full auction catalogue HERE.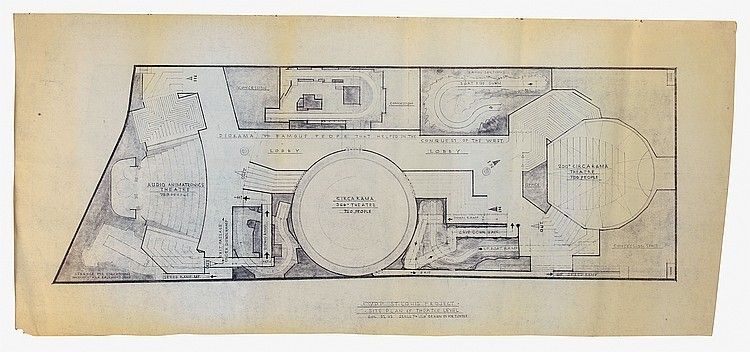 Pictures: copyright Disney Enterprises