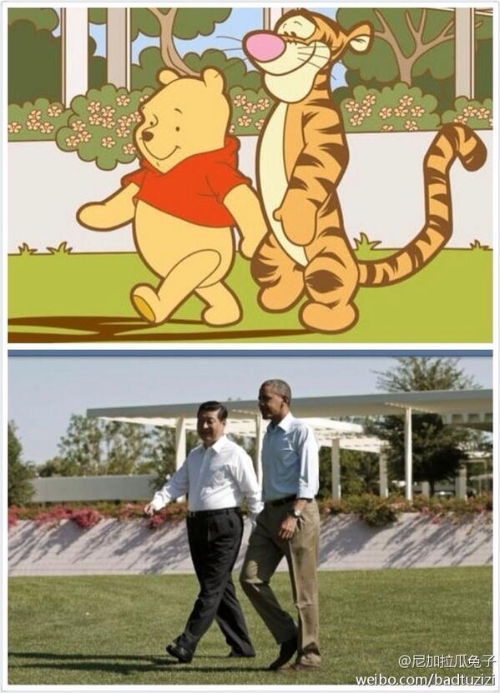 Believe it or,not but one of the most censored / banned picture on the web by Chinese censors is... Winnie the Pooh. And here is why.
It all started in June 2013, when Winnie appeared with his friend Tiger in a fun montage of resemblance with Presidents Obama and Xi on a picture taken during an informal meeting in California between the two leaders, a few months after the inauguration of the Chinese president. The picture - that you can see below - was censored instantly and since the use of Winnie was a little more discreet.
Until September 3, when the Grand Parade organized for the 70th anniversary of the end of World War II and the surrender of Japan, celebrated with great pomp in Beijing. That day, Xi Jinping inspected his troops from the sunroof of her car. Through this show of force, the President Xi Jinping wanted to reaffirm the power of China in a period of economic weakness, and reactive anti-Japanese nationalist feelings. It was enough for Winnie to come back, this time in the form of a plastic toy. The picture posted on Weibo was shared 65,000 times in 70 minutes before being removed by censors ...and to reappear in the international medias in the beginning of this year as the most censored image in China in 2015.
Not to mention this other one with Japan Prime Minister Shinzo Abe...
Now, i don't want to be pessimistic but Disney may have unvoluntarily a serious problem here. Winnie the Pooh is the most known Disney character in China and if it is now associates ( in the minds ) with President Xi Jinping up to the point that images of Winnie the Pooh are automatically removed by censors, then Disney may have some communication problems when SDL will open later this Spring. Specially considering there is a whole Winnie the Pooh area at SDL Fantasyland with not less than two rides, the classic Winnie dark ride and a "tea cups" ride.
It'll be interesting to see if Winnie the Pooh will appear in the SDL parade and specially during SDL opening. I suggest that Winnie cut the ribbon on park opening day with Xi Jinping and Bob Iger! ( just kidding, Bob, just kidding... )
Pictures: copyright Disney, DR