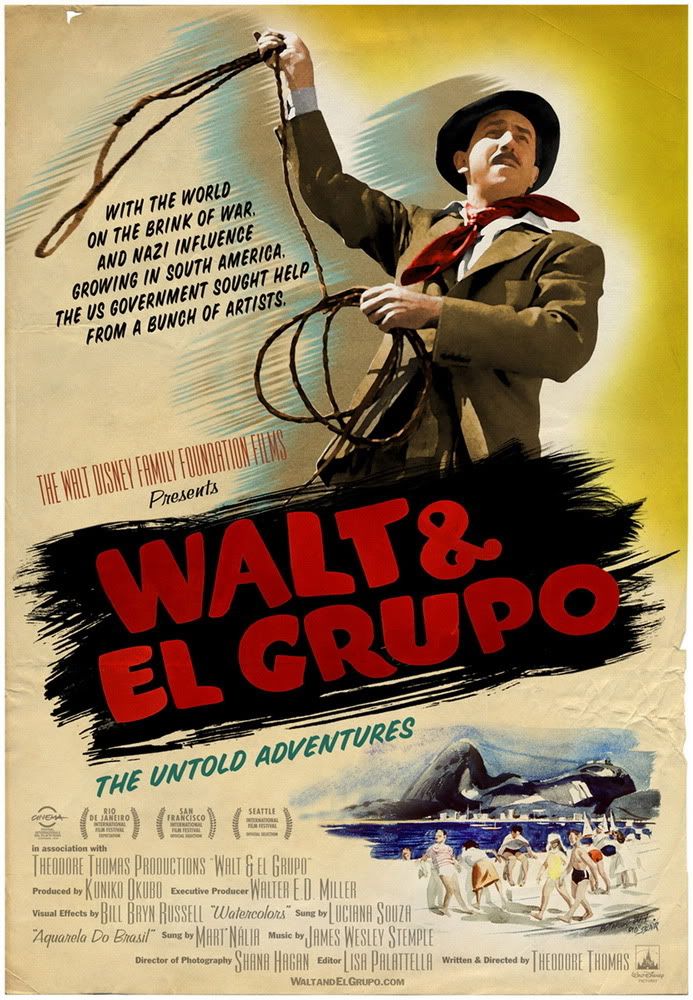 The awaited Dvd of "Walt and El Grupo" is released today and for those of you who didn't had the luck to see it - i.e, basically everybody living outside the U.S - it will be a fantastic opportunity to discover this rare footage of Walt Disney and Disney Studios animators filmed in 1941 during their legendary trip in South America.
You can order the Dvd directly on the Disney and more Amazon Emporium HERE
at special price of $19.99 (instead than $29.99). And below you'll find the movie trailer and rare pictures from a LIFE magazine photographer who joined "El Grupo" during their trip, it should give you a better idea of what this historical movie is about.
In early 1941, before U.S. entry into World War II, the United States Department of State commissioned both a Disney goodwill tour of South America, intended to lead to a movie to be shown in Central and South America as part of the Good Neighbor Policy. The tour took during ten weeks Walt Disney, his wife Lilly and a group of sixteen great artists from Walt Disney Animation as well as composers from the Walt Disney Studios to South America, mainly to Brazil and Argentina, but also to Chile and Peru. The movie, of course, now known as "Saludos Amigos" was made up of four different segments. Donald Duck stars in two of them and Goofy stars in one. It also features the first appearance of the character José Carioca.
But the Disney group was not alone, as LIFE photographer Hart Preston was there too and did a fantastic photographic report for LIFE magazine. It is these very rare pictures that you will see today, probably for the first time.
We will begin by Brazil in Rio de Janeiro. On the top, Walt and Lilian Disney going for a tandem bike ride in Rio De Janeiro, Brazil, June 1941. Below Frank Thomas, on the left, is standing with Walt Disney on a beach of Rio de Janeiro.
Precisely, in the next pictures we'll see Disney and his group going on a Brazilian beach...
Where Walt with his camera filmed some young
cariocas
...
Another great picture of Walt filming on a beach of Rio de Janeiro.
Meanwhile, Disney artists like Lee and Mary Blair created great watercolours that will serve as inspiration for the future movie.
They've also study the brazilian vegetation in botanical gardens...
And even waterfalls...
..And animals like this parrot - who knows, may be his painting by Lee Blair was the one who inspired the character of Jose Carioca?
Or may be it was
this
parrot?
Near a beach of Rio, Lee and Mary Blair meet and greet young cariocas...
...while on the other side of the road Disney artist Herb Ryman was doing sketches of animals.
The group went also in mountain villages...
...where Herb Ryman did some interesting paintings.
Here are two sketches of Frank Thomas, in the first one Pluto meet an armadillo...
And this one shows Dopey with a Brazilian monkey.
After the work the Disney group is relaxing...
...and for Walt, it's lunch time!...
...before some party later in the evening.
The Brazilian premiere of Fantasia also happened when they were in Rio de Janeiro.
And Walt Disney gave a presentation about animation with the help of three of his animators.
In a Brazilian nightclub performers entertained an audience which included Walt Disney.
And in the Urca Casino nightclub, dancers put on a floor show for the benefit of Walt Disney and his movie crew.
The group then moved to other countries, in Argentina to see the famous "gauchos"...
Or in Peru to see peruvians villagers...
While in Peru, they went also on Lake Titicaca to film sequences that will serve as inspiration for the Donald segment in Saludos Amigos. On the pictures, Walt is the one who holds the camera.
Hope you enjoyed this pictorial article with these rare LIFE pictures of the Disney South-American tour. All of them are coming from the fantastic LIFE photographic archives which are now avalaible to anyone in a special section of Google Images
HERE
.
To order the Walt and El Grupo Dvd directly on Amazon just go on
the Disney and more Amazon store HERE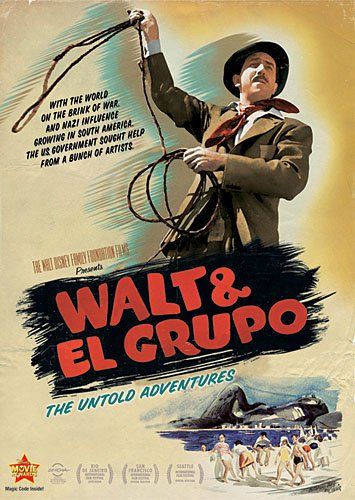 Pictures: copyright Disney and Time-Life - All rights reserved