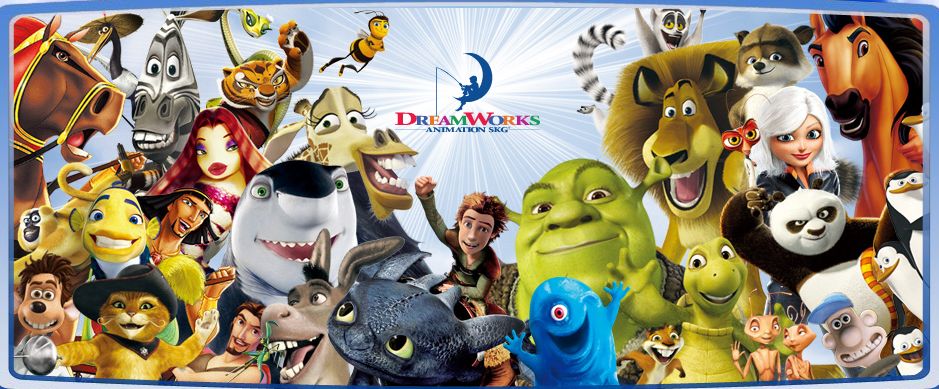 Jeffrey Katzenberg is for Disney like the famous sparadrap of Captain Haddock in the adventures of Tintin - the typical sticking plaster scene where it sticks to everything and you can't get rid of it. When Pixar or Disney Animation have a good idea they probably pray that no one at Dreamworks will hear about it - remember ANTZ, anyone?
Sure, since then Dreamworks Animation developed its own ideas and had success with movies like Shrek, Madagascar or Kung-Fu Panda. Last February, DreamWorks Animation announced it will create a China JV called Oriental Dreamworks "that will develop and produce Chinese animated and live-action content for distribution within China and around the globe". And today, guess what?, Jeffrey Katzenberg, announced in a news conference that DreamWorks Animation SKG Inc and its Chinese joint venture partners will open a theme park in Shanghai by 2016, with a total investment amount of 20 billion yuan!
And 20 billion yuan - US$3.1B - is not a small amount. To give you an idea, Shanghai Disneyland theme park is estimated to cost 24.5 billion yuan, with hotels and additional facilities costing another 4.5 billion yuan. So, with 20 billion yuan they can create a real big theme park. Juxt next door, or almost, to Shanghaî Disneyland as this DreamWorks' theme park, called Dream Centre, will be located in the Xuhui district of Shanghai, as said this morning Li Ruigang, Chairman of China Media Capital, adding he hoped it would become China's Broadway or West End. And they don't plan to open it in 2020! But in 2016, just one year after SDL opening. For sure, Bob Iger is gonna like this news when he will learn about it this morning...
Now, let's see if they will come with better rides than the ones created at Universal Singapore in the Dreamworks land. That should not be too difficult....
Edited: More about all this from the latest AFP news:

SHANGHAI — DreamWorks Animation on Tuesday said it plans to build a $3.2 billion "entertainment zone" in Shanghai, as the US film giant seeks to bolster its presence in the booming Chinese market.
The studio's newly-formed China joint venture, Oriental DreamWorks, is set to open the tourism attraction in 2016, the creator of megahits like "Shrek" and "Kung Fu Panda" said in a statement. The project -- called the Dream Center -- will comprise entertainment facilities, animation exhibitions and commercial developments including hotels and shopping areas in Shanghai's Xuhui district, it said. The announcement comes after US entertainment giant Disney last year broke ground on a planned $3.7 billion theme park in Shanghai, scheduled to open in 2015.
However, one of the DreamWorks' Chinese partners denied being in competition with Disney, describing the project not as a theme park, but as an "entertainment zone". "It's different from any other large cultural project in China, including Disneyland," Li Ruigang, chairman of China Media Capital was quoted as saying by the official Xinhua news agency.
DreamWorks in February announced plans for a $330 million joint venture company with three Chinese partners -- China Media Capital, Shanghai Media Group and Shanghai Alliance Investment -- to cooperate on film productions. Tuesday's statement posted on DreamWorks' website said that joint venture had now been formally established, with the three state-backed Chinese firms together holding a majority 55 percent stake in the company.
Oriental Dreamworks will make the next "Kung Fu Panda" movie -- the third instalment in the hugely popular series -- in China as a co-production for release in 2016, the statement said. It plans to release up to three major films a year, with its first feature-length animated film scheduled for global release in 2017, it said.
Edited: From another press agency:
...In addition, the two parties signed an agreement Tuesday to establish the "Dream Center" entertainment zone in the West Bank Media Port, which is located in Shanghai's Xuhui district. The zone, to be built with a total investment of more than 20 billion yuan, will be made up of theaters, restaurants and bars, said Li Ruigang, CMC's chairman.
The West Bank Media Port, with the "Dream Center" as its flagship attraction, is expected to see 20 million visitors a year, according to data provided by the district government of Xuhui. Li said the two sides will strive to develop Shanghai into an international culture center. "In the long term, we may bring more entertainment zones to other domestic cities or even build them abroad," he added. Katzenberg was said to have "intense interest" in the entertainment zone project, a first for the California-based company.
Some have said that the announcement of the "Oriental DreamWorks" deal has put DWA in a fierce race with its domestic rival Walt Disney, which began to build a theme park in Shanghai last April. Nevertheless, Katzenberg and Li both claimed on Tuesday that the "Dream Center" project will not be a threat to the Shanghai Disneyland. "The 'Dream Center' is not a theme park. It's different from any other large cultural project in China, including Disneyland," Li said.
And, finally, from BBC News:
The Dream Center will open in 2016 in the Xuhui district along the Huangpu river, it said.
The complex aims to create a "global cultural centre" to rival New York's Broadway and London's West End. It will house the world's largest Imax screen and tourist attractions, as well as restaurants and hotels.
"This doesn't exist anywhere else in the world," Dreamworks chief executive Jeffrey Katzenberg told a news conference."
In conclusion what we can say about this Dream centre announcement:
They're going to spend $3.2 B, expect 20 million visitors and they think that we're going to believe that what they plan is just a kind of upgraded Downtown Disney? Despise what Katzenberg is saying and whatever this new concept of entertainment can be, it is probably a threat for Shanghaî Disneyland. My guess is that they're planning something like Singapore did at Sentosa. A mix of hotels, restaurants, cinemas, shows, etc... AND a kind of theme park with rides and attractions. Or may be the rides will be directly inside the entertainment zone. The only thing which is missing - if it's not already in their plans - is a casino. A casino in addition to this "entertaiment center" with rides, etc... now THAT would be a serious threat for SDL as we know that chinese are big big gamblers. We still have to wait for the final concept to know more about all this, but so far one thing is sure: whatever they can say about "no threat for Shanghaî Disneyland" when the expected 20 million visitors will be at this Dream Center they won't be at Shanghaî Disneyland.
Picture: copyright Dreamworks