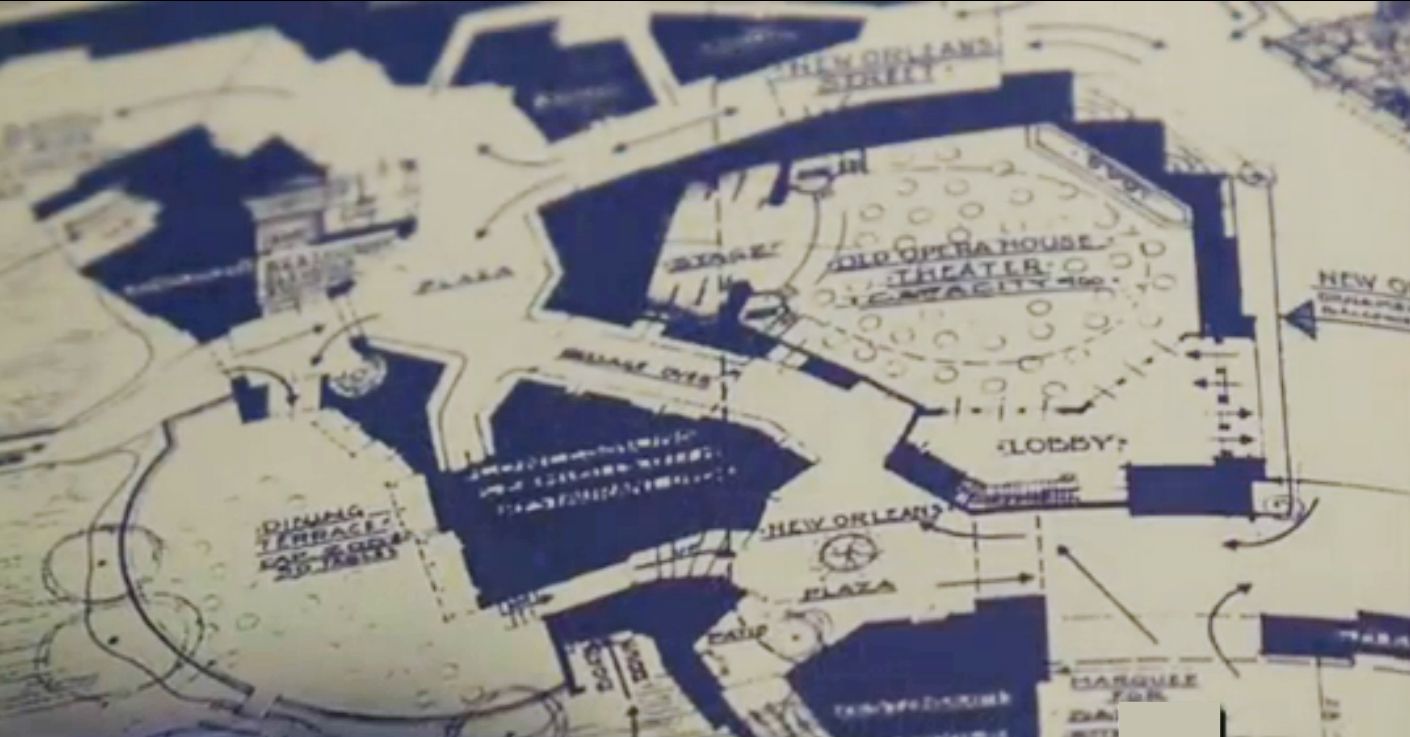 After Disneyland opening Walt, with his teams of WED Imagineers, worked on many others projects. You know some of them even if they were never built like the Mineral King Ski Resort, but did you ever heard before about the Riverfront Square theme park project? And how close Walt Disney came to building an impressive five-story theme park in downtown St Louis just north of Busch Stadium in 1963?
Riverfront Square was planned to be built in St Louis, Missouri. Why the hell in Missouri, you ask? Well, it's time to remind you that Walt Disney spent a big part of his childhood in Marcelline, Missouri, and although i'm not here to play the psychoanalyst those who are will tell you that the first years of childhood will determine the future of any human being. That said, Disney had a deep affection for the state and St. Louis in particular. "Missouri typifies good, common sense Americanism," Disney wrote at the time. "Whether your roots are in the farm or in the streets of its bustling cities, I guess you can gather from this that I still have a fine warm spot for the old home state."
So,
i suppose that all this may have been a good reason why he choose the state of Missouri as a place to build his second theme park.
But, and although that after the construction of Disneyland Walt Disney publicly stated that he had no intentions of opening parks elsewhere, something happened. A
ccording to the "Walt Disney's Missouri"
book, i
n advance of the St. Louis bicentennial celebration (planned for 1964), St Louis city leaders approached Disney about producing a film about the city.
Forget about a movie, Disney countered, why not build a massive park based on Mark Twain, westward expansion, and the Mississippi River?
So
, in March 1963, Disney met with the mayor of St. Louis to discuss plans for the construction of a new theme park in the riverfront area of St. Louis, which was undergoing a major redevelopment for the city's bicentennial.
In addition to his Missouri roots, Disney was impressed with the new plans for the St Louis downtown area in the early 1960's, which included a new Busch Stadium and a nearly complete Arch and t
he theme park would have stood in the two city blocks north of Busch Stadium, which was being renovated at the same time. And of course Walt had his Imagineers draw up plans and design new attractions for this new park. Good news, i found back for you these rare plans thanks to two videos posted recently by the
KSDK news channel. As usual, click on each to see them in larger size.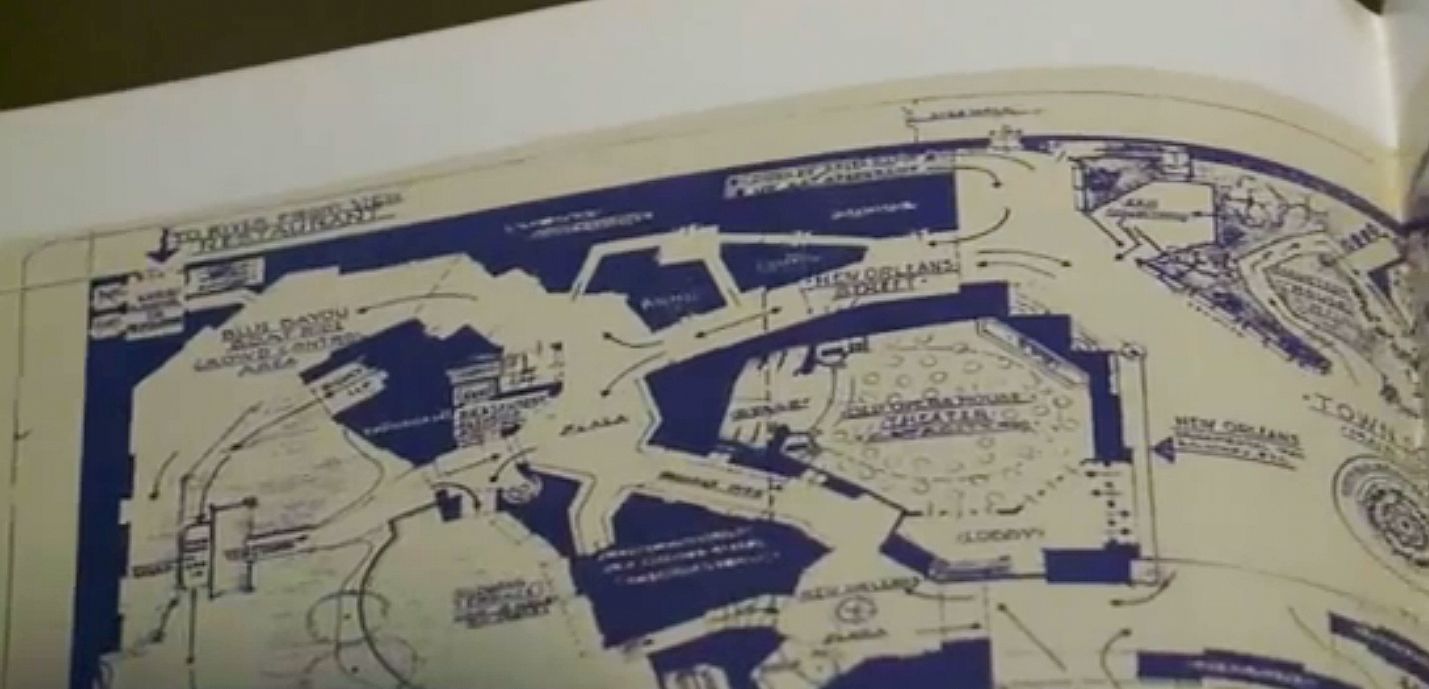 Riverfront Square was to be for the most indoors, contained within a five-story building, allowing for year-round operation. An atrium would stretch to the ceiling, where artificial lighting would simulate weather and time-of-day.

The costs for the park were projected at $40 million, with a targeted attendance of 25,000 visitors per day.
The entrance to the park would have been similar to Disneyland's Main Street U.S.A, with one side of the street based on Old St. Louis, and the other based on Old New Orleans. Disney planned to utilize the Audio-Animatronic technology that had recently been developed by WED for the New York World's Fair. The top floor of the park would have housed a banquet hall, restaurant, lounge, and bar, overlooking the Mississippi river, in addition to having concession stands and shops throughout the park.
Several classic Disneyland and Disney World attractions were apparently originally conceived for the St. Louis park, including what would later become Pirates of Caribbean, the Haunted Mansion , and a "Western Riverboat" ride. not to mention the idea of a New Orleans Square. In addition, the concept of an indoor Disney theme park would be returned several decades later with... the Disney Quest concept.
Other planned attractions included:
- Lewis & Clark Adventure, a ride based on the travels of Lewis & Clark expeditions.
- A ride based on folk legend Mike Fink
- A ride based on folk legend Davy Crocket
- An attraction based on the Meramec Caverns of Missouri
- Two Circarama theaters, with at least one of which would show a film about St. Louis
- A bird room
- An explorable pirate ship
- An Opera House
- A wishing well
Below, the part of the plan showing the Opera House, New Orleans Stret and New Orleans Plaza.
The next one shows the plan for one of the Circarama Theaters.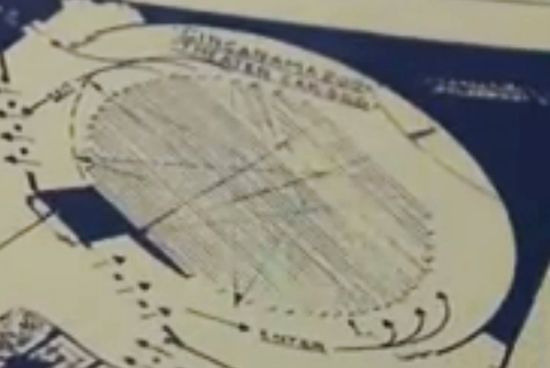 A larger view of the part with the Circarama and what seems to be a big theater.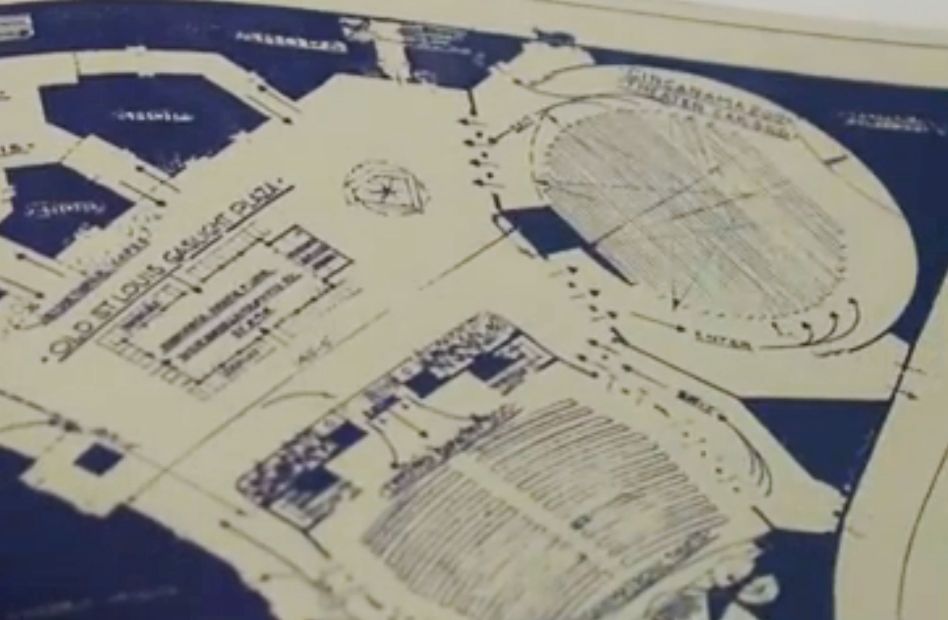 The "Lewis and Clark Adventure" and "Meramec Caverns" rides never materialized - although a ride based on Lewis and Clark expeditions was also envisioned for the Disney's America project (which also never was) - but the plans reflect Disney's deep affection for the State of Missouri.
Below, a rare rendering done for the Riverfront Square project,
supposedly
showing the Lewis and Clark ride entrance.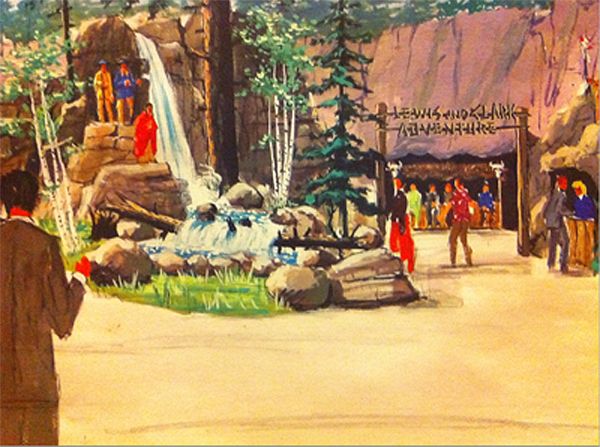 As we know Disney always had plans for a "Haunted Mansion" even before the original Disneyland opened in California in 1955. But the Haunted Mansion concept was apparently refined in the St. Louis plans, which included a stretch room elevator down to the illusions below,' exactly the way the ride was built years later in several Disney parks," according to the "Walt Disney's Missouri" book.
As for Pirates of the Caribbean? "The St. Louis park was to feature a 'Caribbean Pirate's Lair' and a 'Blue Bayou' boat ride...the Lair and Blue Bayou boat rides later evolved into the Pirates of the Caribbean ride". below, the part of the plan showing the Blue Bayou ride area.
When Disney touted the plans for the St. Louis park in 1963, he was very enthusiastic about his new technology using "audio-animatronic" robots. The plans for "Riverfront Square" called for animatronic robots portraying Missouri legends like Lewis and Clark, Mark Twain, and even Napoleon. And on the first video below - right after a 15 seconds Ad - you'll see Disney during a St. Louis visit taken from the KSDK film vault, speaking about the Audio-Animatronics technology.
Note: I've noticed that, strangely, even if i've embedded two different embed codes sometime two similar videos appear. If this is the case you can see the first video HERE and the second video posted below HERE.
So why didn't it happen? The most popular version of the story holds that Disney knocked heads with August "Gussie" Busch, Jr. from Anheuser Busch over - guess what? - beer.
Disney was firmly opposed to serving beer inside "Riverfront Square". It's an issue that KSDK asked Disney about during his visits to St. Louis in 1963 and they found back the tape.
Reporter: "Then it's your idea Mr. Disney that none of these places in this development will serve liquor?"
Disney: "Not within this complex, no. I mean there can be things outside if people want to go there, I mean tied in. But not within the same area. At Disneyland we don't even serve beer at Disneyland. At the hotel yes."
Reporter: "Is it a personal feeling with you about liquor?"
Disney: "Oh, no! I'll have a drink with anybody. Thing is, a lot of people don't believe in drinking and I respect their wishes."
Here is the video with Walt talking about the beer issue.
But the beer issue may not have been the only thing preventing "Riverfront Square" from happening. Differences over who would pay for the construction and an offer of cheap land in central Florida may also have heavily influenced Disney's decision to build in Orlando instead, according to "Walt Disney's Missouri". By July 1965, Disney announced that plans for the park would not move forward, because of a dispute over the financing and ownership of the park, and Disney's desire to focus his attentions on Florida for what would become the construction of Walt Disney World.
So, even though St. Louis didn't get a Disney theme park, the plans for "Riverfront Square" live on in some of the most famous Magic Kingdom attractions in Orlando, Disneyland and others Disney theme parks around the world.
Pictures and videos: copyright Disney - KSDK