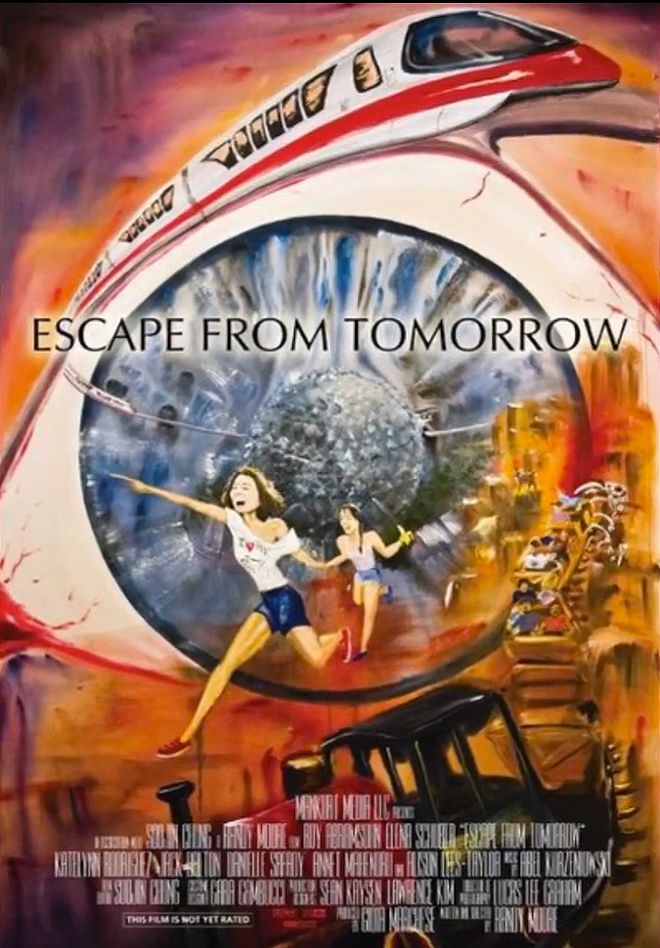 May be you've heard about this indie movie which was screened at Sundance film festival just a few days ago. It's called "Escape from tomorrow", it's filmed in gorgeous black and white by director Randy Moore, and everybody - including U.S major newspapers - is talking about it. Why? Not only because apparently the movie is really good but also because the film was filmed almost entirely at Walt Disney World and Disneyland Anaheim. And without Disney authorization.
Oh-ho, you begin to understand where the problem is... And what the film is talking about, you ask? Well, as i was not at Sundance and did not watched "Escape from tomorrow", here is how the L.A Times describes the storyline in its excellent article: "
Basically, the film is about a down-on-his luck fortysomething father (Roy Abramsohn) on the last day of a Disney World vacation with his henpecking wife and their two angelic children. As he takes his children to various attractions, the father is haunted by disturbing imagery; he is also, in the meantime (and with his children in tow), tailing two young flirtatious French girls around the park". What the L.A Times forgot to say in their synopsis is that the father learn by a phone call on the last day of his WDW vacation that he's fired from his job. And, even if he is suddenly shocked and depressed, decides to don't tell it to his wife and children.
So, for the L.A.Times "Ultimately, Escape from tomorrow is a character study about a man who seems to have lost any sense of optimism in a place that's overrun with it". But apparently it's also more complicated than that with a third act which "
takes on an increasingly macabre tone. And though the movie borrows tropes from horror movies (think young girls running out of sight and creepy smiling dolls) and 1950s futurism, it most often evokes David Lynch
, both in its deadpan tone and its utter inscrutability".
Below, a first clip from the movie showing a sequence in a swimming pool. But, for obvious reasons, you won't see any WDW buildings in this clip. Also, although that the way the father is looking in this sequence at the two young "lolitas" may seem "transgressive" Roy
Abramsohn, the actor playing the father, insist that the father is not a pederast, that seeing the girls makes him realize how his youth is gone forever, and he became obsessed with them a bit like the character played by Dirk Bogarde in Luchino Visconti's 1971 Death in Venice.
How they succeed to filmed a whole movie at WDW without any cast-members noticing that they were filming is also an interesting question. This other L.A Times article will learn you more about how they did it but basically the movie was shot with a small Canon camera and a crew "guerrilla style" with no script in the hands of anyone, the director and actors communicating by messages through their smart phones to avoid anyone suspect they were shooting a movie. Below, two interviews videos, one with Roy Abramsohn who plays the father and the other with the director, Randy Moore.
You can watch another good video interview from the L.A Times of both Randy Moore and Roy Abramsohn HERE.

Of course the big question now is how Disney is going to react to this movie and will they try to stop it to be released in theaters? So far, "
It's unclear if Disney will have legal objections to the movie that might prevent it from being shown beyond the festival, in movie theaters nationwide or on DVD or video-on-demand... so far, no distributor has picked up the film".
Normally, the corporate logic would be that Disney don't like at all "Escape from Tomorrow". That said, according to
Tim Wu, a law professor at Columbia University who watched the movie at a screening last weekend:
"
I think on both copyright and trademark fronts their (Disney) case would be pretty weak". "I
t's a film that falls pretty squarely in the territory of fair use, which addresses copyright," added Wu, who specializes in intellectual-property issues. "And to establish trademark infringement they'd have to prove that a reasonable person would think Disney is endorsing the movie, and I think they'd have a hard time doing that." Wu also added that although "Randy
Moore and his cast and crew could be guilty of trespassing because they violated the terms of the passes sold to them by Disney, that probably would only be a misdemeanor and does not tend to result in large punitive damages".
So, what Disney should do? Personally, as i've said, i've not seen the movie so it's always difficult to talk about a movie you haven't seen yet, but i have the feeling that it's a good, and even an interesting movie. And the fact that it was chosen to be part of the Sundance Film Festival is also a good sign. So, personally i think that Disney should do nothing, that they should released a statement saying something like "Although the WDC don't endorse or approve any ideas include in the "Escape from Tomorrow" movie and forbid any unauthorized filming in Disney theme parks, the WDC accept the right to free expression as defined in the constitution of the United States of America". This would be much smarter than to spend a huge amount of money in lawyers to stop the movie to be released, and specially now. Why? because last year has been a fantastic year for the WDC, movies were successful, it's a kind of new golden age for Disney theme parks, etc... everybody has a good image of the WDC, so may be it's not the right time to remind everyone that the WDC is also a big corporation ready to sue a small indie film. I think Disney has much more to lose than to win to try to stop "Escape from Tomorrow" being released, i think it's a kind of corporate trap that they will create themselves. And Randy Moore has said that "he's not
trying to shut Disney down or hurt them", that "This was the story, and WDW was the only place I could tell it". We can perfectly understand why Disney could have a corporate reaction to "Escape from Tomorrow", but in this case i think Disney should try to be, if i can say, "more intelligent than corporate".
Part of text: copyright L.A Times
Escape from Tomorrow poster picture: copyright Randy Moore