Last Wednesday, October 14, Innoventions new attraction "The Sum of all Thrills" opened. So, i thought: let's do an article about it and went to the WDW press web site to find some pictures of it. That's where journalists go to find pictures when anything new open at WDW, and generally pictures are available in the next day after the opening or so...
But since last Wednesday there is still no official picture on line, nothing. Pictures of the new ESPN Innovation Lab that open October 16 at the ESPN Wide World of Sports Complex are available, but always no pictures about "The Sum of all Thrills". Not even a press release! So, i began to thought "uh, that's strange..." and decided to go to the sponsor web site to see if there some pictures were available.
Before i go further let's talk one minute about the attraction. As we know the attraction use the famous KUKA robotic arm. I thought that Universal Studios had an exclusivity from KUKA on this robotic arm as they will use it in the E-Ticket ride of the awaited Harry Potter land at IOA, but i suppose that when the robotic arm is not used in a ride, it's probably different... Anyway, to come back to the attraction itself, guests "create their own experience by first choosing a ride theme, including a roller coaster, bobsled or jet plane".
"Using multitouch, object recognition tables, guests use math and engineering-based tools, such as rulers and speed dials, to design and customize their ride by adding corkscrews, inversions or steep hills.
The guest can then experience his or her custom ride from beginning to end on the robotic KUKA RoboSim 4-D simulator. Inside the simulator, guests experience their ride on immersive high definition video combined with stereo sound and controlled air motion for a complete sensory experience".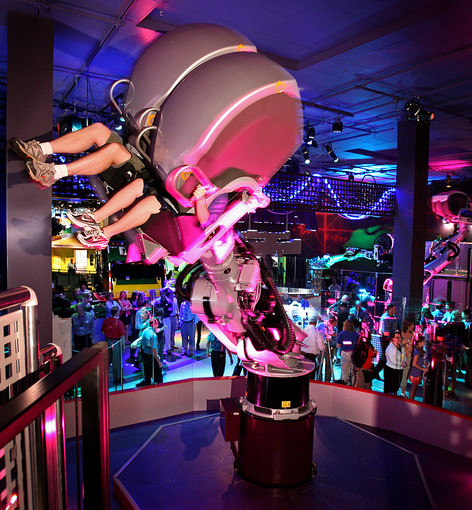 All the reviews on the net about The Sum of all Thrills are good -
Werner on Mice age
did a very good one about it - so this new addition to Innoventions seems pretty cool.
Now, to come back to my pictures research, i found two pictures on the Raytheon web site. They're include in this article but because i wanted to find better pictures i went to the Raytheon press section. First you have to know is that i knew nothing about this Raytheon company. May be they're well known in the U.S but in France nobody know them, which is not the problem, of course.
Sooo, i arrived on their press picture section and what do i see - like anybody going to
find pictures in this section
? Pictures of missiles - yep, WAR missiles, all kind of missiles from the well known "Tomahawk" to the "Patriot", as many as you want others Air-to-Ground Missiles and even a ExoSkeleton for soldiers... In two words, Raytheon is a company working in defense industry, manufacturing war weapons. I suppose that some of you would say that they're creating weapons which will help to protect "our" country but whatever is the angle you take the truth is that missiles are weapons that can destroy planes, tanks, buildings, etc...but at the end generally kill people.
No need to say that i was a bit shocked when i saw this and even more amazed that it seems to don't be a problem for anyone - i didn't see any review talking about it. The first thing i thought was "Is Disney out of its mind to have as sponsor a company manufacturing war weapons? ". Then i talked with an american friend who explained to me that considering the U.S "culture of weapon", it was less shocking out there, on the other side of the Atlantic. I can understand this, but i guarantee you that we will NEVER have at Disneyland Paris an attraction sponsored by a war weapon manufacturer. No way, never, the press reaction all over Europe would be terrible, really.
So, i don't want to be disagreeable - specially because i think to all the work and time it took to WDI Imagineers to design this new attraction - but, frankly, don't you think it's shocking that a Disney theme park sponsor is a war weapon manufacturer? I know that Epcot is no longer the utopia it was originally supposed to be, i.e an "experimental prototype community of tomorrow", and finally is a park dedicated to international culture and technological innovation but, honestly, wasn't it possible to find a sponsor manufacturing something else than weapons which kill people? Seriously.
Well, now that i know about all this may be it explains too why the WDW press web site is "silent" about this Innoventions attraction and why you won't find on it any picture...or even a press release.
EDITED
: Please read the comments of D&M readers below which help to understand the situation as apparently Raytheon seems to don't be the first EPCOT sponsor working in defense industry as General Motors, General Electric and United Technologies all have (or have had during sponsorship) weapons/defense divisions.
However, to pay tribute to the Imagineers who did a brilliant job on this attraction, here is a video very well filmed on opening day by
Attractions magazine
which will show you perfectly the attraction itself. Have a look, and then let me know what you feel about all this.
Pictures: copyright Disney, Raytheon and Orlando Sentinel
Video: copyright Attractions Magazine