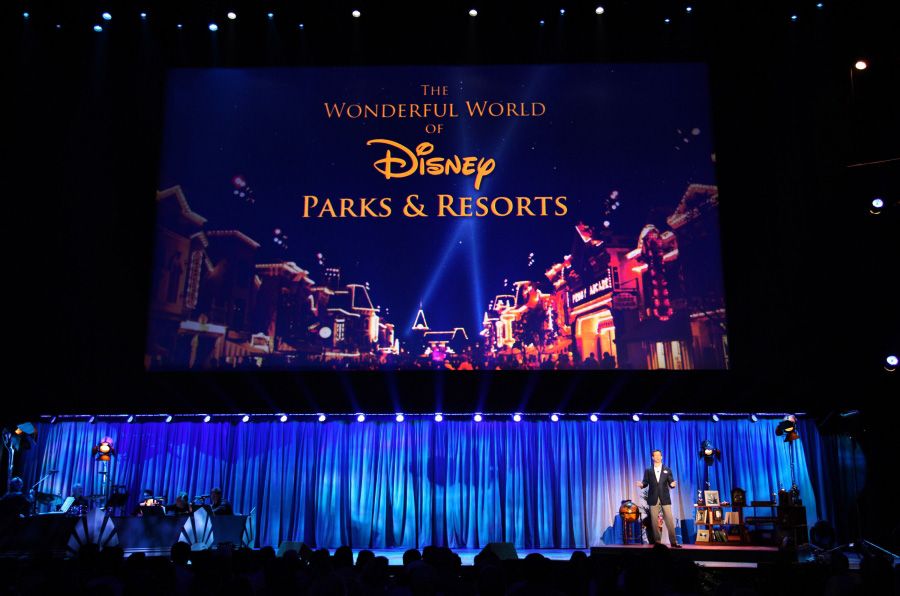 Twelve hours ago Tom Staggs, chairman of Disney Parks and Resorts, did his awaited presentation at D23 Expo. If you have a read at fans discussion boards it seems that many Disney fans were disappointed as they awaited announcements of major attractions - specially at the U.S parks - but to be fair and considering that some of the big projects announced by Jay Rasulo two years ago are still in the works there is some logic that the WDC don't announce new E-Ticket rides right now. In two years WDW new Fantasyland and Cars Land will be open and for sure new rides will be announced at 2013 D23 Expo.
Still, Tom Staggs didn't came with empty hands and as you will see below he gave more details on upcoming rides, the announcement of a new area to open at Disneyland and more infos on Shanghaî Disneyland castle!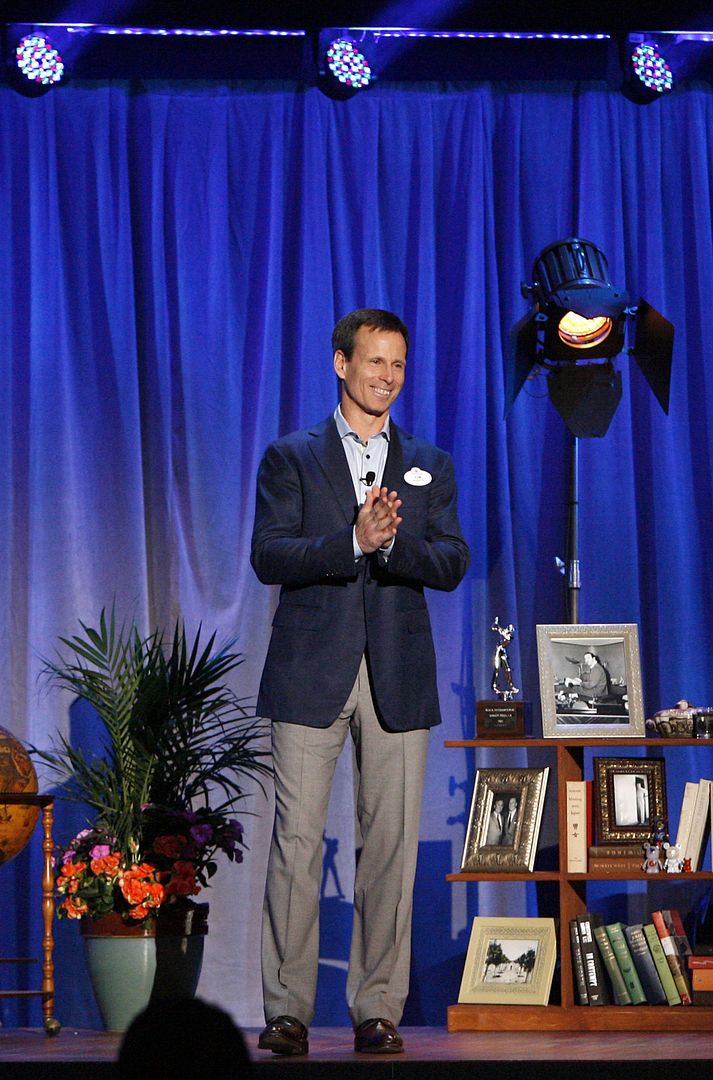 Tom's presentation began with a fun video. Just like what Billy Crystal was doing for the Academy awards ceremony opening, Tom Staggs did this video where you'll see him as a Disney cast-member who, well, uh...don't really fit for the role...
Then he talked about Disneyland where a new experience called "Fantasy Faire experience" will come to Fantasyland. To achieve this, "the boundaries of Fantasyland are expanding with a brand new experience called Fantasy Faire. For this project, Carnations Plaza Gardens Stage is being reimagined into an enchanting village square that will immerse guests in the stories of their favorite princesses in exciting new ways.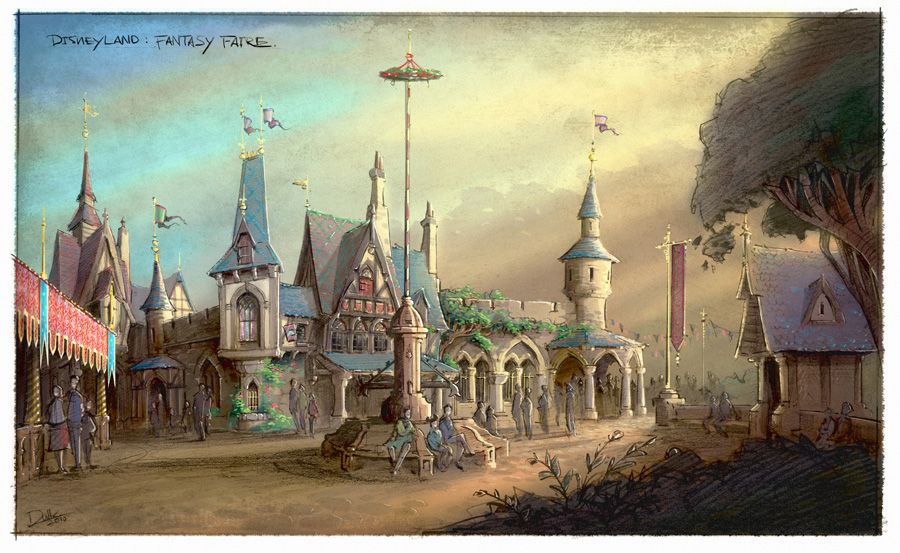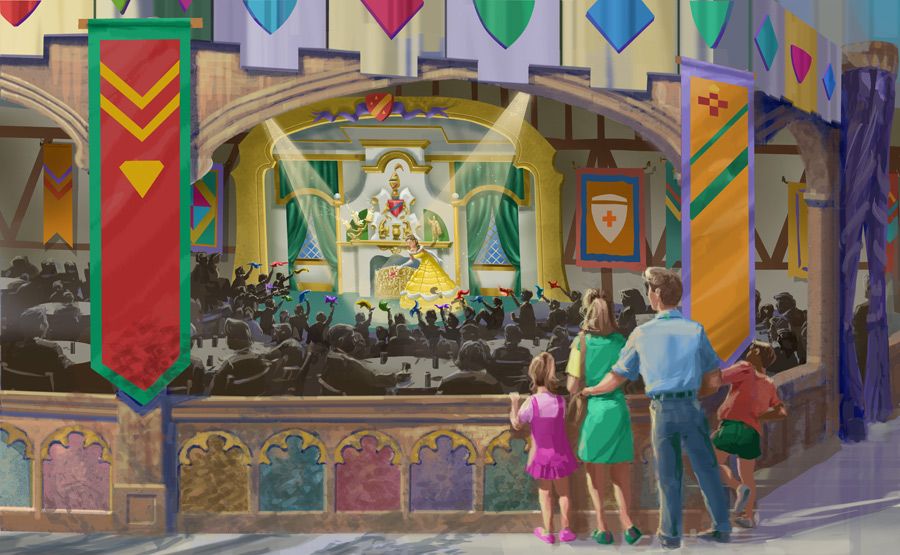 "Guests will travel through a village square surrounded by fairytale cottages and pavilions to the heart of the square – Tangled Tower, inspired by the film. The village square will come alive with activities and entertainment, including a Royal Ribbon Parade where guests can dance and interact with Belle or Rapunzel. Guests can visit the their favorite Disney royalty from such films as "Snow White and the Seven Dwarfs," "Cinderella," "Sleeping Beauty," "Beauty and the Beast" and "Tangled."
‪The Fantasy Faire Stage will be a new entertainment venue where the stories of Disney's fairy tale heroes and heroines will be brought to life, letting guests become part of the story as well.
‪And at night, the Fantasy Faire Stage will come alive with the classic music and dance offerings that Disneyland park guests have loved for years".
Edited:
With Georges Kalogridis Tom Staggs taked about future Disneyland experiences, and here is the video.
Tom Staggs then talked about WDW New Fantasyland and specially the Seven Dwarfs mine train ride where guests will take a journey through the diamond mine of the Seven Dwarf and how the train wagons will include a new ride system never seen before in a Disney coaster ride. This new ride system designed by Walt Disney Imagineering "will allow each mine car to swing back and forth individually as the train twists and turns along the track". You can watch below the short video that D23 guests saw yesterday in two versions. The first video is the film itself, with ho sound and the other one was filmed during Staggs presentation and this one have the seven dwarfs song on it. I put both of them because the music helps to understand why these new cars swinging back and forth will fit perfectly with the music theme. Also, another video filmed by WDWFanBoys inside the Carousel of Projects area is showing more about these new train cars, from the Imagineering.
Staggs also detailed the attractions and dining experiences that WDW guests will discover when New Fantasyland will open next year:
Under the Sea ~ Journey of The Little Mermaid where guests will get to experience what it's like to go under the sea with Ariel and her friends.
Enchanted Tales with Belle where families and children will have the opportunity to meet Belle with a whole new degree of interactivity and personalization.
Dumbo The Flying Elephant, complete with an interactive queue under the Big Top and not one but two Dumbo attractions.
Gaston's Tavern, a place where guests can dine in splendor and pay tribute to the manliest of men…Gaston himself!
Be Our Guest Guests can dine in three separate dining rooms in the Beast's castle. The main dining room is the Ballroom, where Belle and Beast had their first dance, in the West Wing or in the Castle Galley during lunch hours.
Edited:
And Walt Disney Imagineering will create a new Audio-Animatronic of Lulière which promise to be astounding. Here is a video shot during Tom Staggs presentation of WDW New Fantasyland, in which you'll see a WDI Imagineer showing a CGI footage of how should move the future Lumière AA.
Tom also talked about Disney's California Adventure and the new Buena Vista Street where DCA guests "will be able ride the Red Car Trolley up Buena Vista Street to the new icon of the park, Carthay Circle Theatre — a recreation of the original theater where "Snow White and Seven Dwarfs" premiered in 1937. Guests will also be able to experience the park's charming period architecture, mix of stores, eateries and guest services — it will be a whole new entry way into the park that immerses guests into the experience". Here is a fly-though video over Buena Vista Street which will open next year.
Last but not least Staggs also provided great details about Shanghaî Disneyland "Enchanted Storybook Castle". We already knew that SDL castle will be the biggest castle ever built in a magic kingdom, what we disnt knew was that it will be
that
big with four floors, a restaurant, shops and a unique flume ride with a boarding room located under the castle.
Here are some renderings in high-res and screen captures from the video you will see below.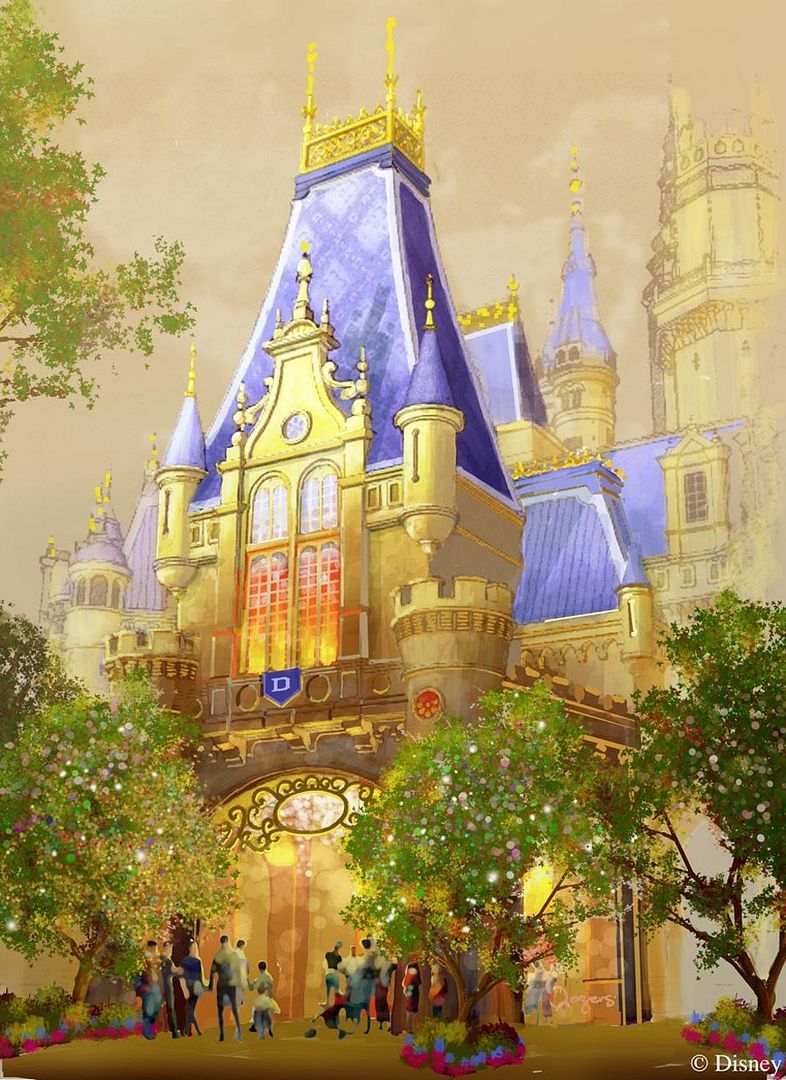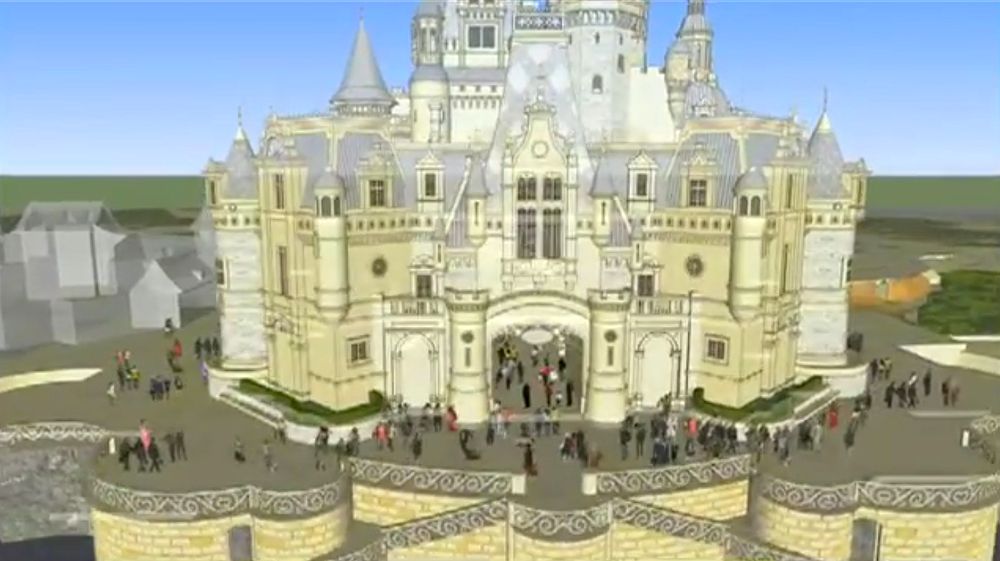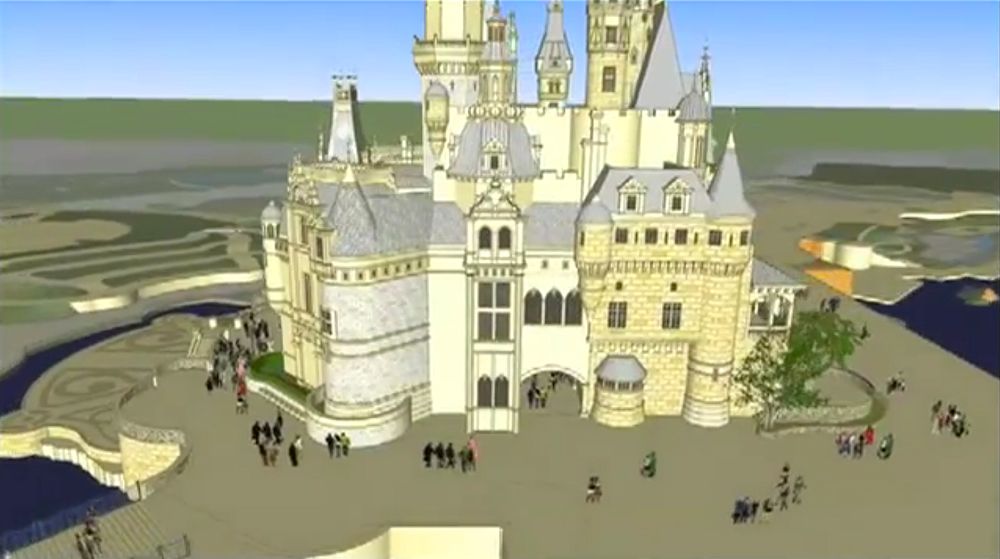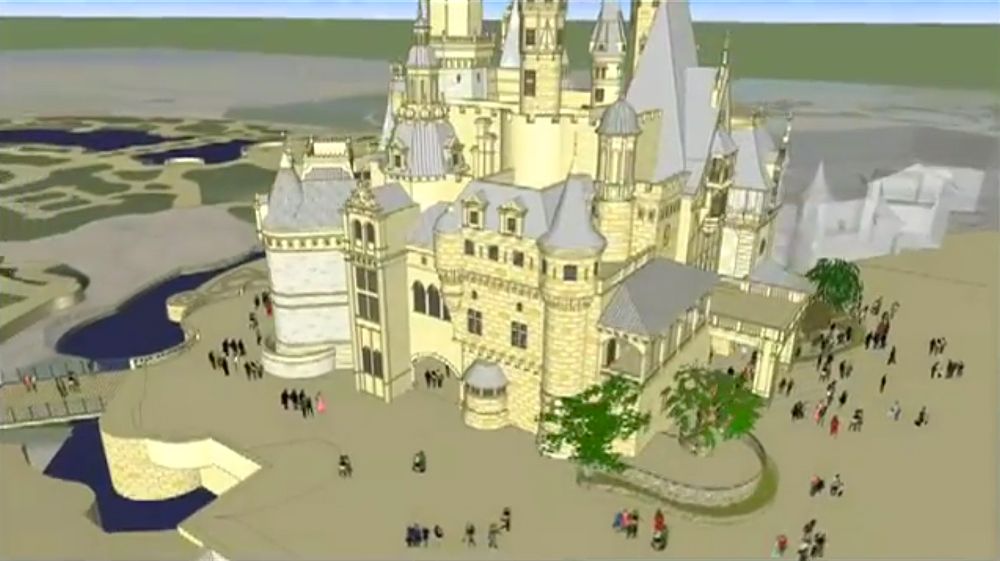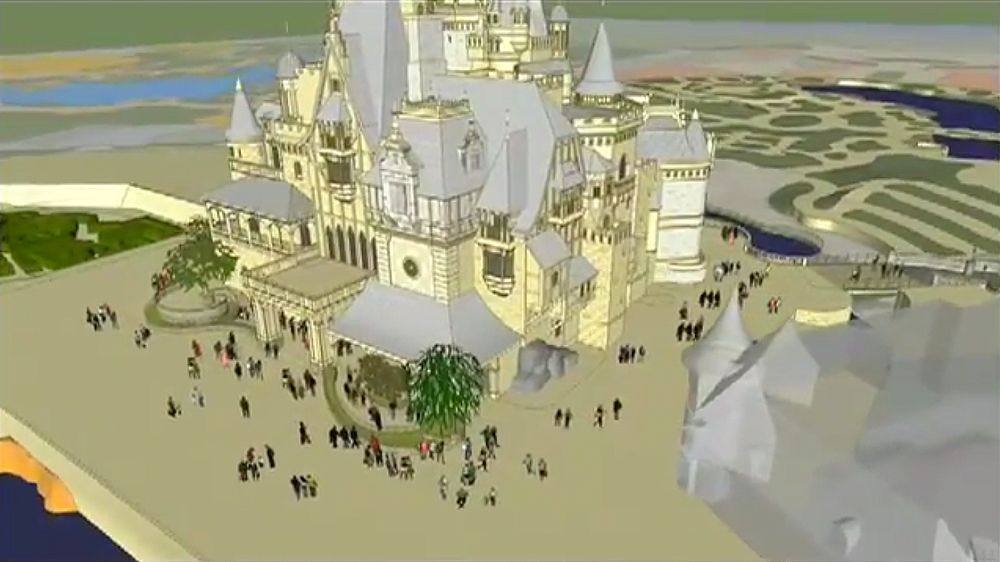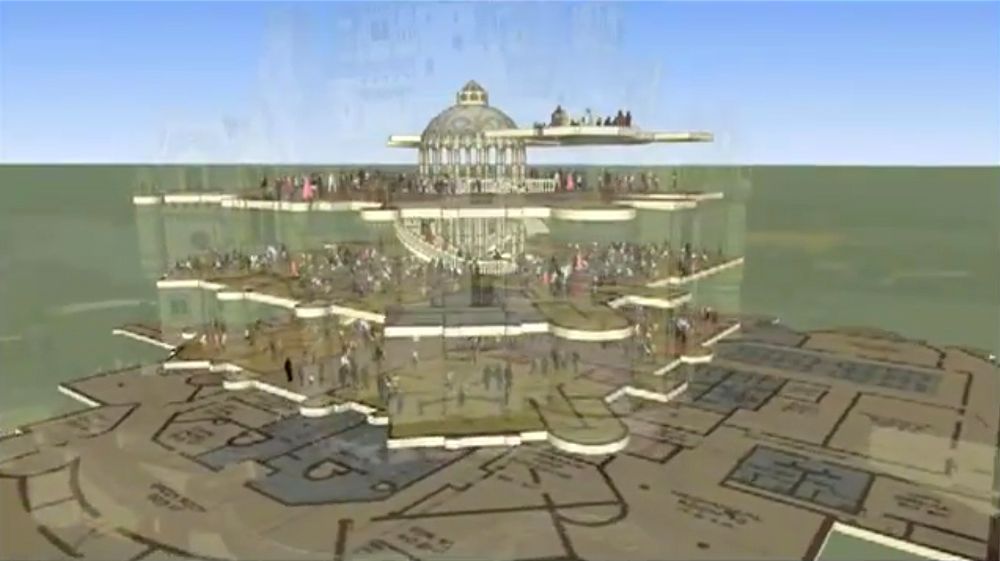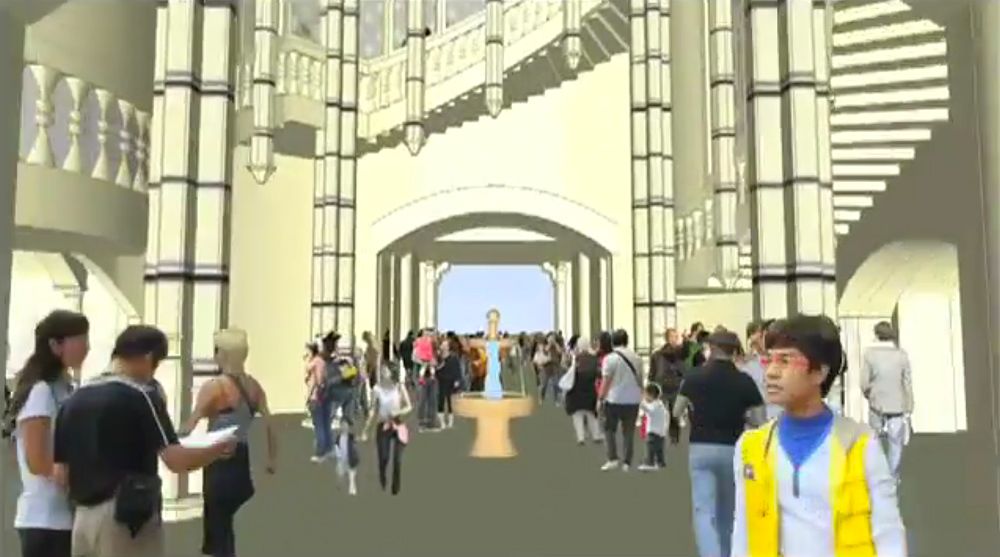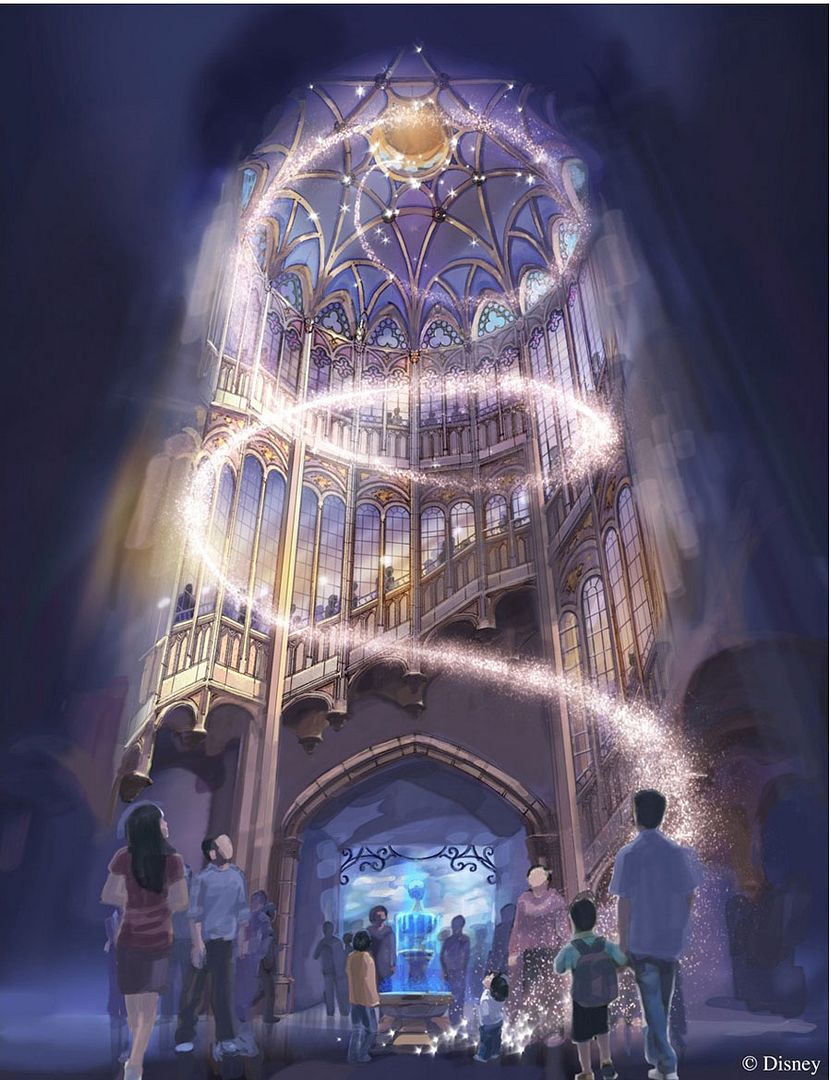 From the official release "The Enchanted Storybook Castle is going to be the largest and most immersive castle at any Disney park around the world and it will be the first of our castles not dedicated to a specific princess because it represents all of them. Inside, guests will be able to explore the multi-level castle, which will feature a princess meet and greet, the first ever Bibbidi Bobbidi Boutique princess makeover experience inside a castle and Once Upon a Time Adventure, a large-scale, walkthrough experience. Also for the first time, the castle will be part of a boat ride attraction that will be one of the anchor experiences of Fantasyland."
Below, you will see the very first rendering showing one of the boats, here under the castle before moving out for a slow ride all around SDL Fantasyland.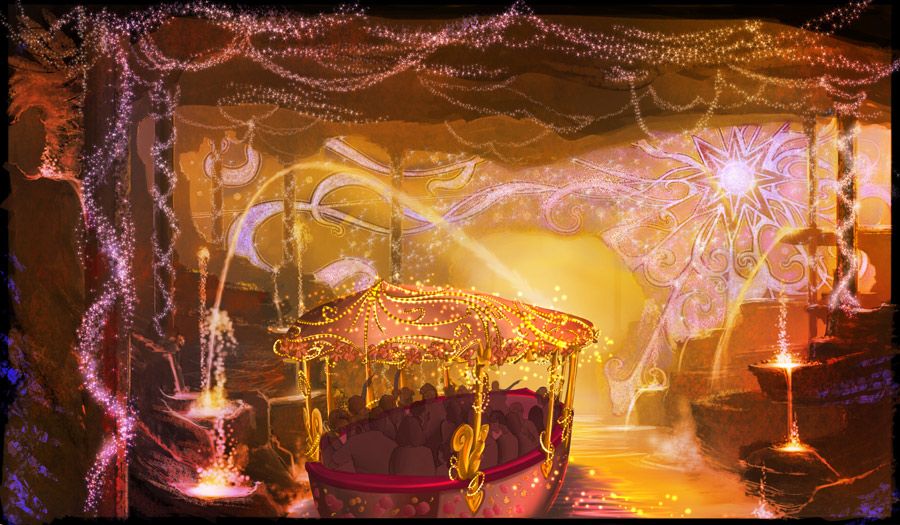 When you see these four different floors, all that guests will find inside the castle - and although i don't doubt that the theming will be stunning - i sincerely hope that WDI will have well thought the guests flow as obviously each SDL guest will rush inside the castle to explore each of its floors. And i don't know why but i have the feeling that it's gonna be crowded in there if the only way to go up and down is the beautiful spiral staircase...we'll see.
This next video provide a sneak peek around and inside Shanghaî Disneyland Enchanted Storybook Castle.
Edited:
Bob Weis did an appearance at Tom Staggs presentation, talking about SDL. I remind you that Bob Weis is the show producer on Shanghaî Disneyland, so he's the right guy to listen to, and here he discloses more secrets about the SDL enchanted Storybook Castle.
Being chairman of Disney Parks AND Resorts, Staggs also talked about the Disney Cruise Line and of course the new Disney's Aulani Resort in Hawaii opening August 29. Here is a new great video with Imagineer Joe Rhode for a video tour of the resort as the finishing touches were being finalized, showing the amazing theming work done at Aulani. Don't miss also two other videos posted
in friday article HERE
.
Edited:
And now, ladies and gentlemen, boys and girls, for those of you who wish to see the whole presentation of Tom Staggs, here is it, in three parts filmed by thebugger2000:
All pictures: copyright Disney
Videos: copyright Disney or WDWFanBoys or WellConnectedMom or 1screamvideos or thebugger2000. Thanks a lot to all of them for their great videos!

Click HERE for direct access to the TDS Wallpapers HD iTunes page
or
READ my article first HERE
.