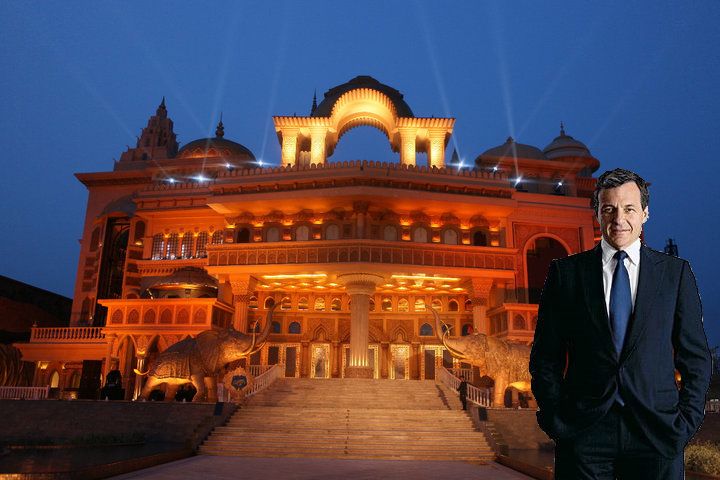 Guess what? Yesterday's article was about Disney's expansion plans in India and today i just read a Hindustan Times article revealing the visit of Bob Iger two weeks ago at "Kingdom of Dreams", in India! "In a secret yet high-profile visit, Walt Disney president and chief executive officer Robert A Iger escorted by about a dozen private bodyguards (!), spent more than two hours at the Kingdom of Dreams in Gurgaon on Tuesday. The hush-hush affair gave rise to speculation whether Gurgaon will be the next destination to house a Disneyland."
And what is this "Kingdom of Dreams", you ask? Well, it seems that Kingdom of Dreams is not really a theme park with rides, etc... but more a great entertainment and dining experience. According to the official description it is "The ultimate entertainment and leisure destination, sprawling across acres of land, ideally located at the apex of the golden triangle of Jaipur, Agra and Delhi, is the magnificent Kingdom of Dreams. Here, the carnival that is India is distilled into one iconic destination. This fabulous Kingdom brings to life a blend of India's art, culture, heritage, craft, cuisine and performing art...all with the technological wizardry of today. Nautanki Mahal: showcasing an extravagant cinematic and theatrical musical. Culture Gully: an elaborate culture, arts, crafts and food boulevard. Showshaa Theatre: a fabulous, colourful drama marquee spotlighting Indian mythology productions, a mock wedding show and the great Indian talent circus. iifa Buzz: a glamorous Bollywood themed cafe. This is a destination in itself which is capturing the imagination of the world. Get ready for this century's most novel tourist destination: Kingdom of Dreams."
Oh-oh, that looks interesting isn't it? And if Iger took the time to do a 16 hours flight to India to visit this Kingdom of Dreams there must be a good reason, right? So, let's have a closer look to it, with some videos. The first one below is the official "trailer".
Kingdom of Dreams also include India's biggest bollywood musical on stage live called "Zangoora The Gypsy Prince" inside the Nautanki Mahal, a 848-seat auditorium within the Kingdom of Dreams complex, with a facade designed like a palace. And as you will see on the video it seems to be an impressive show.
Apparently Iger "took a round of the site and saw rehearsals of the musical 'Jhumroo' in the Nautanki Mahal. Officials also explained to him the backstage technology used during performances. Iger also visited Cultural Gully and was particularly impressed with the theme-based restaurants offering culinary delicacies of various Indian states".
Here is a short video showing Cultural Gully, an air-conditioned boulevard spread across 90,000 square feet, with theme restaurants from 14 states of India, housed in representative architecture and decor.
The Hindustan Times article also says that "The purpose of Iger visit is still not clear and this has sparked several speculations that range from his plans to set up a Disneyland in Gurgaon or taking the Kingdom of Dreams concept to other countries such as the US, UK, Australia and China. The promoters of the Gurgaon facility had earlier hinted at massive expansion plans. It is also rumoured that Walt Disney might be interested in acquiring a stake in Kingdom of Dreams and further developing the project".
Two "direct" news in less than one week about Disney in India means necessarily something and, again, i don't think that Iger would have done that long trip if he didn't had something in his mind. May be he wanted to learn more about Indian culture which, as i've said in yesterday's article, would be a smart move but one thing is sure this is not the end of the "Disney in India" story and just like you i'm curious to know the next episode.
You can read the full article
HERE
and also have a look to
Kingdom of Dreams official site HERE
.
Video: copyright Kingdom of Dreams