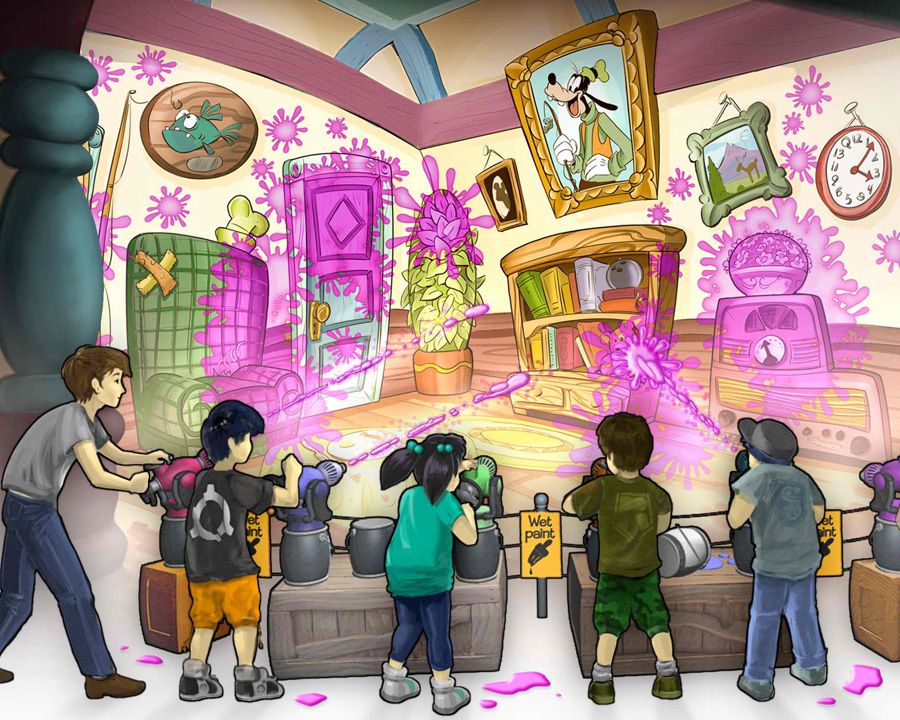 Since yesterday we had a lot of news about upcoming attractions - see previous article below - and the latest one is about TDL as Tokyo Disney Resort announced that the new Goofy's Paint 'n' Play House attraction will open at Tokyo Disneyland Toontown on Aug 24. It's definitely an attraction for young kids but, still, any new addition is always welcome.
According to the Disney Parks blog "this Toontown attraction will allow guests to help Goofy redecorate his room in a unique and colorful fashion. Groups of guests will work together to "paint" the room using special paint applicators called Toontone Splat Masters. Guests simply aim at the wall (or furniture) they want to color and activate the applicators. The attraction will feature beach, jungle and other themes, as well as different Toontone Splat Masters, so guests can vary their choices."
That said, you might be curious to know how this Goofy's Paint 'n' Play House works, technically speaking? Well, from what i've been told by a friend, it works with colors video projections on objects which are in reality in white color. A little bit the same principle than projections on buildings ( like on Magic Kingdom castles ) but with a much more sophisticated technology as the projections must be perfectly adjust with the outlines of the objects which are in the room. Not to mention that the guests are extremely close to the items and that they will identify the trick instantly if the adjustment was not perfect. So, when TDL guest will click on "red" Goofy's armchair, for instance, will appear instantly red, etc... With the new HD video projectors which are much more luminous the final result should be much better than a previous version of the same technology which was used some years ago at Epcot. Goofy's Paint 'n' Play House looks like a fun addition for TDL Toon Town!
Talking about Tokyo Disney Resort, if you have not download yet on iTunes my great TDS Wallpapers application for iPhone or iPad - see below - it's still time to do it!
Click HERE for direct access to the TDS Wallpapers HD iTunes page
or
READ my article first HERE
.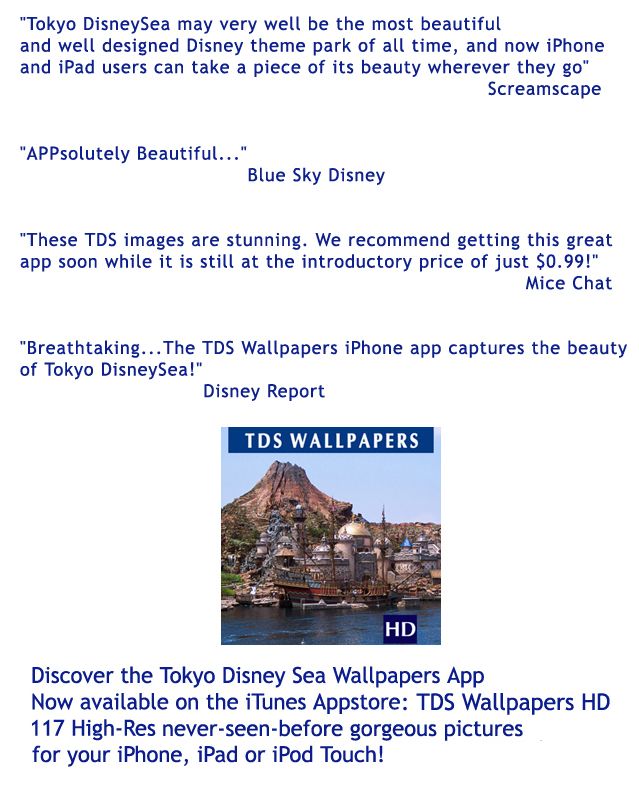 Artwork: copyright Disney