An interesting article was published today by the South China Morning Post - which arrived perfectly for my today's HKDL update. It's about HKDL expansion plans and here is what they say:
Hong Kong Disneyland expansion plan includes third hotel
"Hong Kong Disneyland and the government are in talks over the theme park's expansion plans, a tourism official said on Monday.
Philip Yung Wai-hung, the tourism commission chief, said planning was under way to expand the park on seven hectares of land unused during the park's first phase of development.
Speaking a Legislative Council economic development panel session, Yung said the expansion plans included adding a third hotel to the park. The two current hotels have about 1,000 rooms between them.
"We are now doing the design, and we aim to report to the legislature within the year on the design and financial arrangements," he said.
Andrew Kam Min-ho, managing director of the theme park, said his team had been mulling over a dozen proposals, trying to shortlist one or two for the final decision.
"Some are feasible, but some are not," he said.
Lawmaker Michael Tien Puk-sun was concerned about whether Hong Kong's 27-hectare theme park – among the smallest in the world – could rise to the challenge of Shanghai's Disneyland, which is now under construction.
"What expansion plans do we have? Are we going to have a theme park the same size as an American one? Or will we stay a second-class theme park, rather than first-class?" he said.
Hong Kong Disneyland made a profit of HK$109 million – its first profit since opening in 2005 – in the fiscal year to last September.
Kam said the new attractions that opened last year gave a big boost to admissions and revenue.
About 6.7 million tourists, up by 13 per cent, visited the park last year, with 45 per cent from mainland China. It registered revenue of HK$4.2 billion".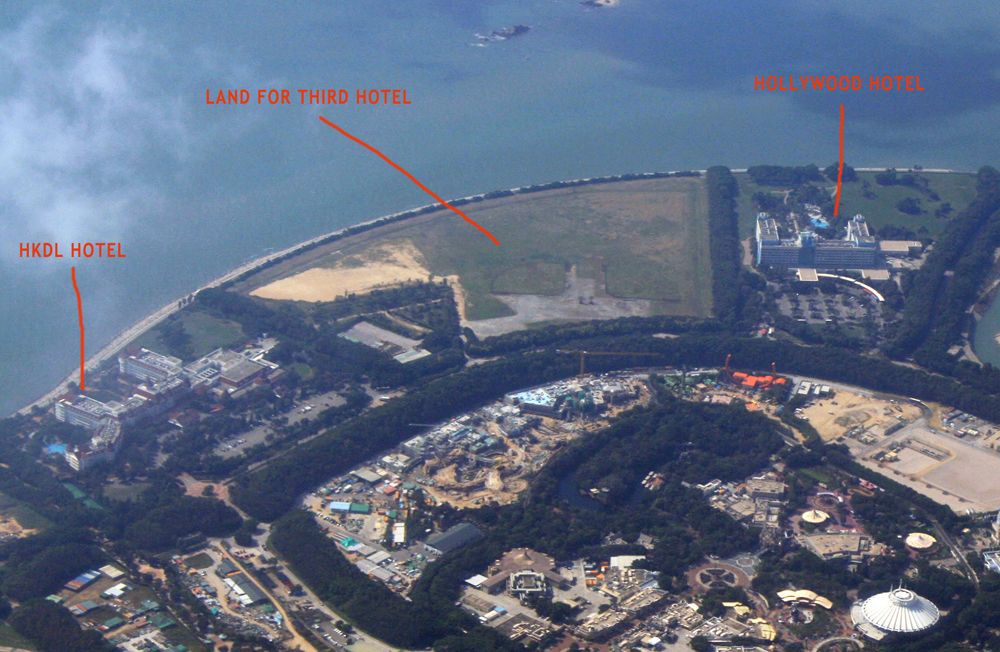 So, what is the truth in all this. First, it's true that they are thinking to build a third hotel, they even kept the room for this from the start and chances are that this third hotel will be built in the land available that you can see on the picture above, between the HKDL Hotel and the Hollywood Hotel. BUT, from what i've been told - and what is confirmed by the South China Morning Post article -
the building of the third hotel should be discussed in the Hong Kong legislative council because it involves large sums of money and this could affect the shares hold by Disney and HK Government. In two words, it's not totally "done" yet.
And what about new attractions, you ask? Well, first, when Andrew Kam says in the article that "his team had been mulling over a dozen proposals" he is not talking about hotels proposals but about attraction projects. We're happy to hear that HKDL has plenty of projects but which one will be the first to be built? The last expansions happened, chronologically, in Tomorrowland ( Autopia, Stitch ), Main Street ( Art of Animation ), Fantasyland ( It's a Small World , Toy Story Land ), Adventureland ( Grizzly Gulch and the upcoming Mystic Point with Mystic Manor ) and the next one should be a comeback to Tomorrowland.
The press, as we saw, said that
HKDL holds now
12 plans but in fact the board could afford to build only one at the moment, and others press articles are saying that a Marvel land would be the most possible theme for HKDL next expansion, with an opening in 2017, may be before.
But, do HKDL have the land available to build a Marvel land in Tomorrowland, knowing that Tomorrowland in HKDL is not that big?
In fact, they do have some room available. One is located behind the Buzz Lightyear ride - a land where they previously thought to build Star Tours 2 before the project was cancelled - but this one ( "small land" on the picture above ) is too small for a Marvel Land.
So,where? Well, if they do build a Marvel land - and i think they will - it will be on the land behind Space Mountain ( "big land" on the picture above ). Right now they are offices on it but they will remove them ( or at least some of them ) along with others things currently on that space to have the necessary land that HKDL Imagineers need to build this Marvel land.
Will this Marvel land be build? Well, according to what Bob Iger have said in previous interviews, that the WDC intend to open Marvel rides in parks where they can do it - i.e in Anaheim, in Europe at DLP, in Asia Disney parks but not at Orlando because of the previous deal of Universal with Marvel which gives an exclusivity to Universal for Marvel rides in theme parks "East of the Mississipi", i think they will do it. HKDL needs something that Shanghaî Disneyland might not have - at least at its opening - and a Marvel land would be perfect to boost once again the park attendance after the very good results they've got since they opened TSL and Grizzly Gulch. Hopefully we will know more about all this after Mystic Manor opening!
Pictures: copyright Keith Lee whom i thanks a lot.