If you've read my previous SDL article two weeks ago with the new Shanghaî Disneyland Google Earth satellite views, you may have noticed something which looks really odd. Here is what i'm talking about. If you look well at the picture above and below you'll notice on the bottom left of the park what will be the Bus station and on its right the supposedly called "Disney Town", a nighttime dining, shopping and entertaiment area, something a bit similar to DL Downtown Disney or DLP Disney Village.
So far, nothing surprising. Except that if you start thinking you realize that Disney Town and the Bus station are located where, in a similar location, we have normally a full land in all others Disney Magic Kingdom. Whether it is in Disneyland or WDW MK where we have Adventureland...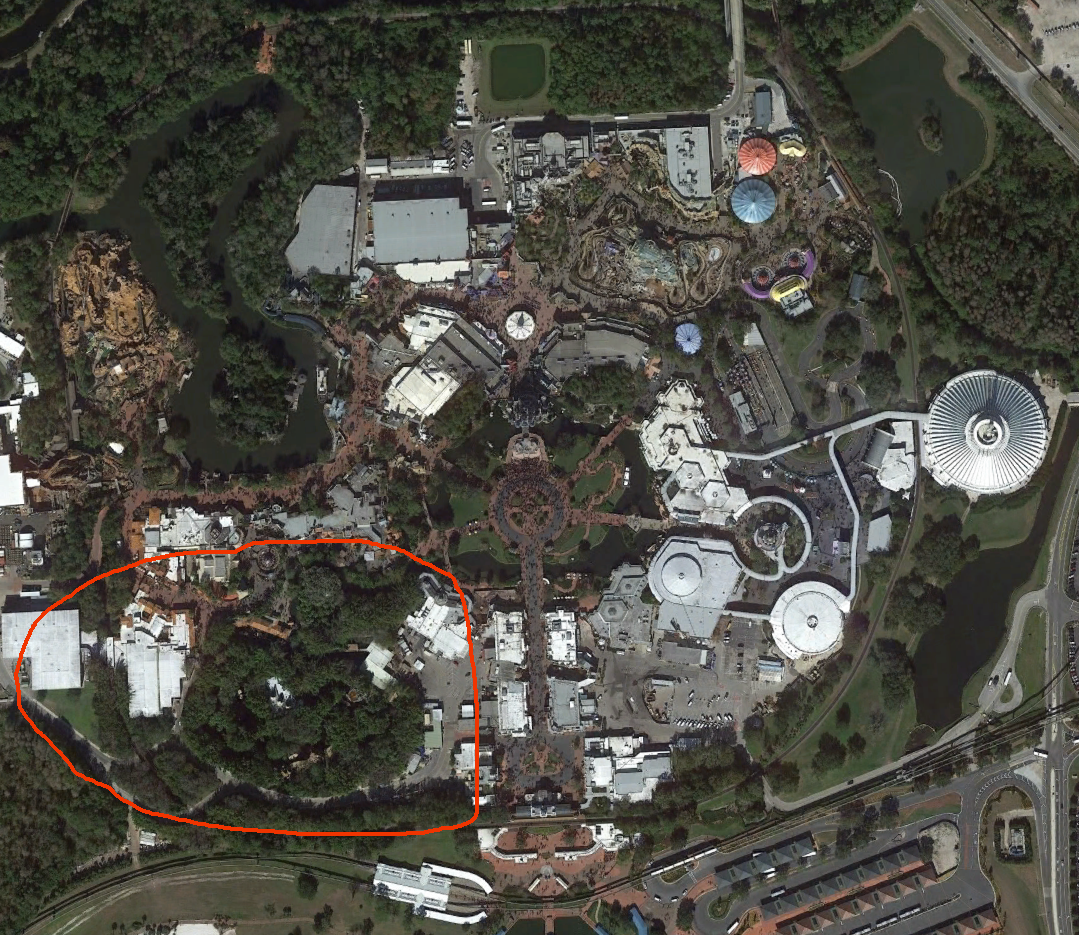 As well at Tokyo Disneyland Adventureland...
Or Hong Kong Disneyland Adventureland...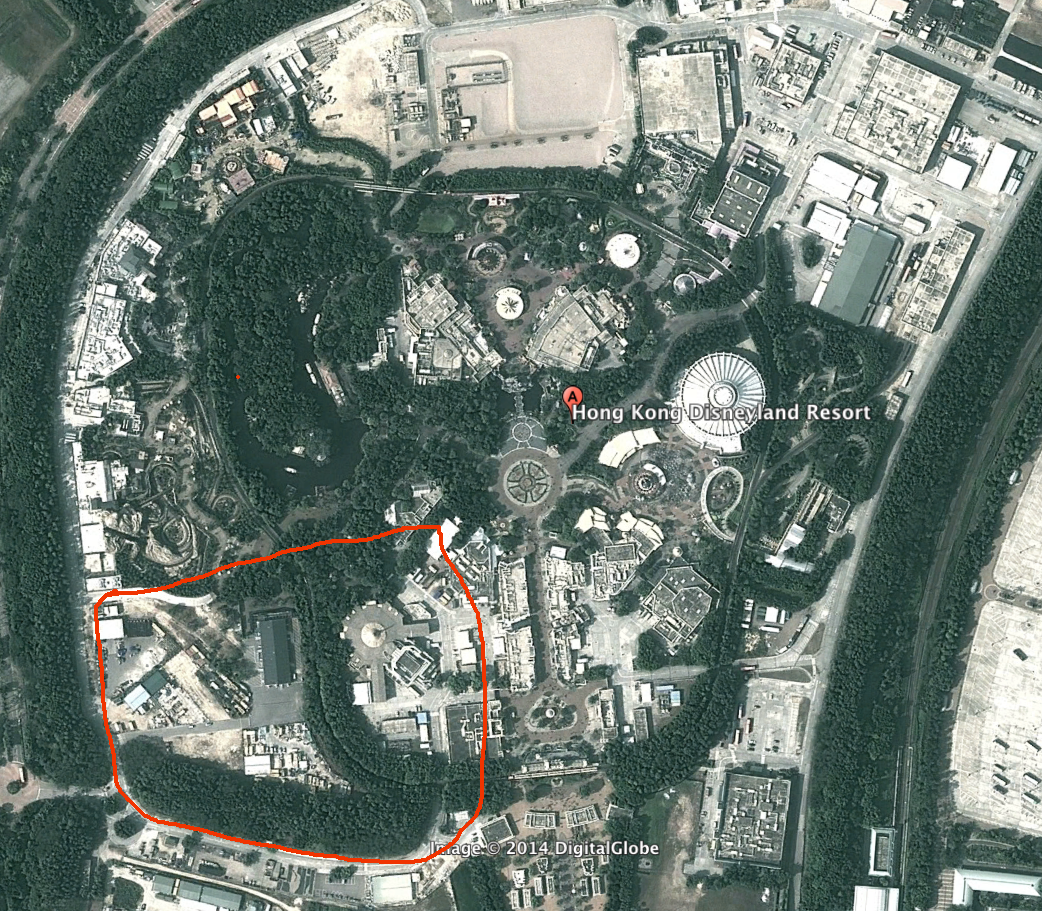 And not to forget at Disneyland Paris where we have Frontierland.
No need to be a genius to understand that they could have build another SDL land - or keep the space for future additions - where is currently being built this bus station and "Disney Town". By building them here the space for a future land at Shanghaî Disneyland has been obviously "sacrificed". So why did they did this, that's all the question. They could have put Disney Town and the Bus Station a bit more down near the lake but instead we will have the top of Disney Town - SDL shopping, dining and entertainment area - just a few meters from SDL "Central Plaza" ( aka: Garden of the Twelve Friends ) and SDL Tomorrowland. That's very very strange indeed, isn't it? I though first that they did this so the park could have a second exit leading directly from SDL "Garden" to the top of Disney Town, what could have been a good idea as two exits would make it easier for SDL guests to exit the park. And at the same time it would force the guests to go through Disney Town shops and restaurants and spend their Chinese Yuans there. But looking at the satellite views it's not sure there won't be an exit leading directly to this dining and shopping area, so this explanation might not work... although this other satellite picture below showing it from a reverse angle put the doubt, and there might be a direct exit to Disney Town.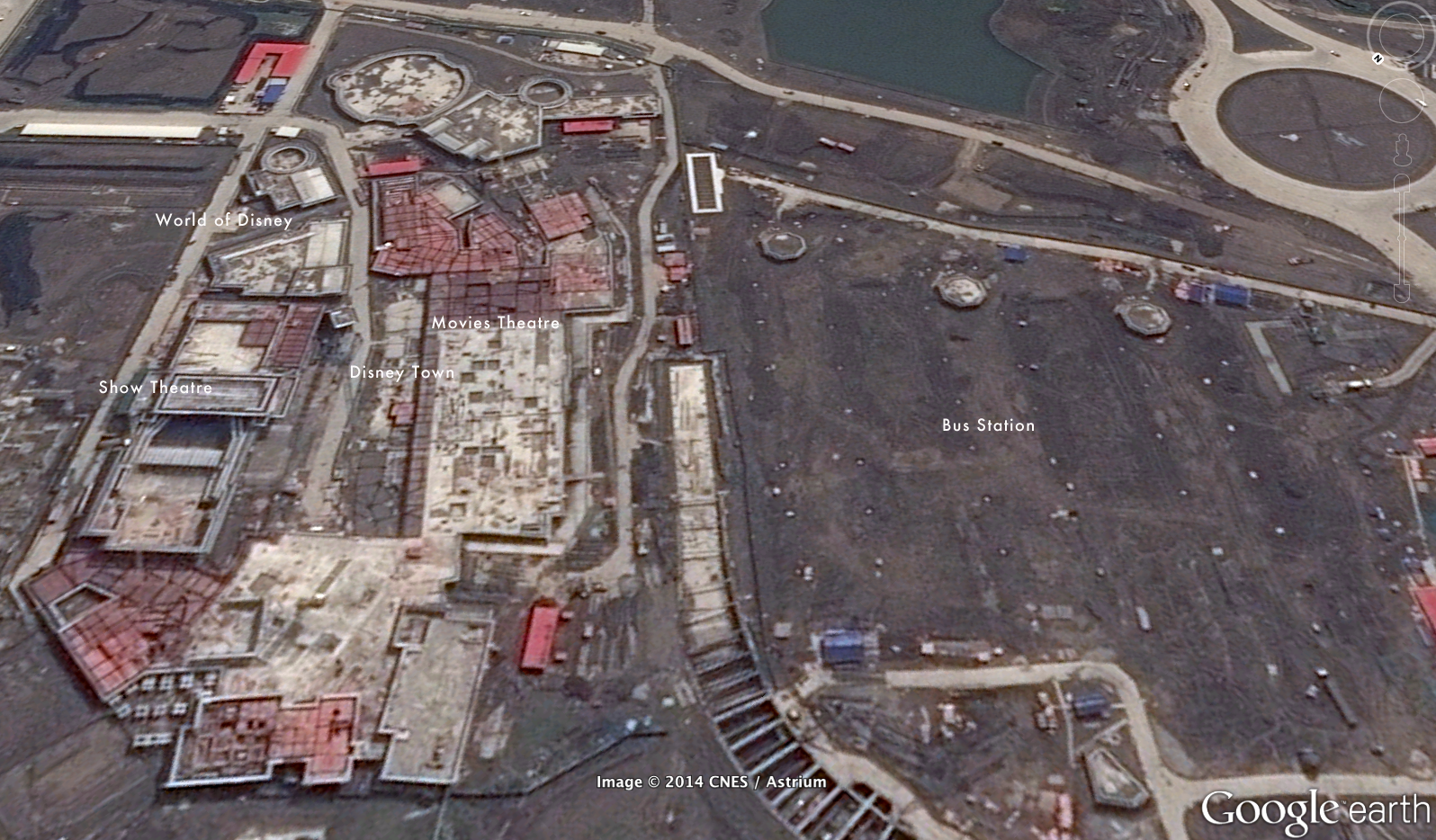 But may be it's more simple, perhaps they've envisioned at the start of SDL design to have a land there, then it was finally cancelled and they decided to put the bus station and Disney Town instead to keep the land for the future. In this case, as the decision would have been taken longtime before Disney bought Star Wars and the rights for an Avatar land, it's a choice they might regret when they will need land for future additions. After all, this area being located so near from SDL Tomorrowland it would have been the perfect place for a Star Wars land, right?
Anyway, if anyone knows the answer, i'll be happy to know it!
Pictures: copyright Google Earth