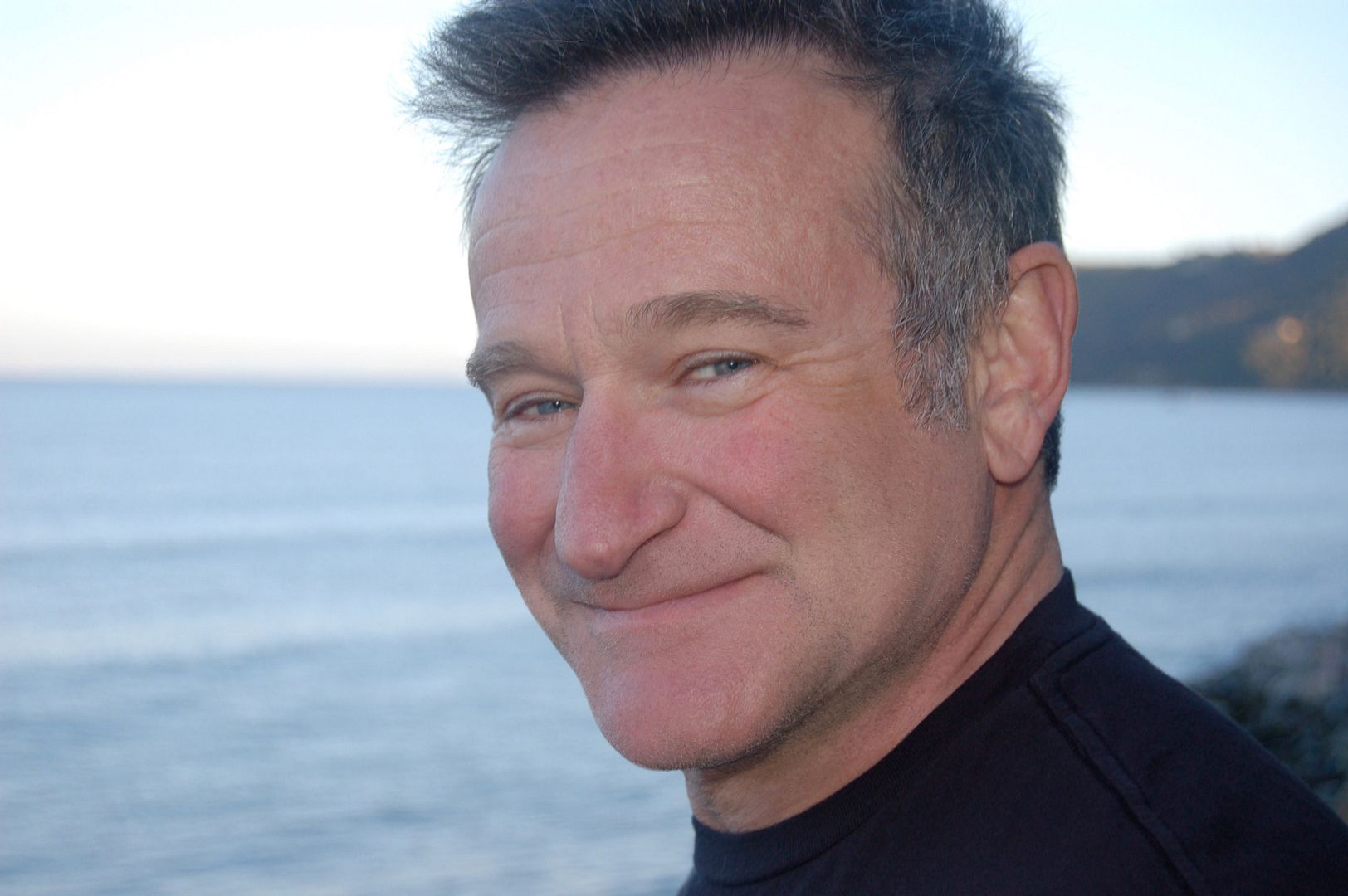 Robin Williams, the beloved actor and stand-up comedian died today at 63, most probably by committing suicide. Williams was found unresponsive at his residence in Marin County, California and was pronounced dead at the scene. According to Marin County's coroner's office, the probable cause of death was asphyxiation.
Disney fans will remember Robin for his genius work in voicing Aladdin Genie but Williams fame started with his role as the alien Mork in the TV series Mork & Mindy (1978–1982), Williams went on to establish a successful career in both stand-up comedy and feature film acting. His film career included such acclaimed films as The World According to Garp (1982), Good Morning, Vietnam (1987), Dead Poets Society (1989), Awakenings (1990), The Fisher King (1991), and Good Will Hunting (1997), as well as financial successes such as Popeye (1980), Hook (1991), Aladdin (1992), Mrs. Doubtfire (1993), Jumanji (1995), The Birdcage (1996), Night at the Museum (2006), and Happy Feet (2006). He also appeared in the video "Don't Worry, Be Happy" by Bobby McFerrin.
Nominated for the Academy Award for Best Actor three times, Williams received the Academy Award for Best Supporting Actor for his performance in Good Will Hunting. He also received two Emmy Awards, four Golden Globe Awards, two Screen Actors Guild Awards and five Grammy Awards.
Here are some trailers or clips from some of his most famous movies, starting by Good Morning Vietnam, directed by Barry Levinson...
Dead Poets Society, directed by Peter Weir...
The Fisher King, directed by Terrry Gilliam, with also Jeff Bridges...
Hook, directed by Steven Spielberg...
Mrs Doubtfire, here in a famous cooking scene...
Robin also played in Jumanji...
...as well as Gus Van Sant's Good Will Hunting with a young Matt Damon, a movie which will bring him an Academy Award for Best Supporting Actor for his performance.
And of course Aladdin in which he voiced the Genie character.
I will add one of my favorite, Bicentennial Man, from a 1976 sic-Fi novel by isaac Asimov in which he played an android.
In fact, it's in gratitude for his success with the Disney-produced Touchstone film Good Morning, Vietnam, Williams voiced the Genie in the Disney animated film Aladdin for SAG scale pay ($75,000), on condition that his name or image not be used for marketing, and his (supporting) character not take more than 25% of space on advertising artwork, since Toys was scheduled for release one month after the debut of Aladdin. Additionally, Williams believed the character's voice was his property and did not want it to be imitated.
The studio went back on the deal on both counts, especially in poster art by having the Genie in 25% of the image, but having other major and supporting characters portrayed considerably smaller. Disney's book, Aladdin: The Making Of An Animated Film, listed both of Williams's characters, "The Peddler" and "The Genie", ahead of main characters but was forced to refer to him only as "the actor signed to play the Genie".
Williams and Disney had a bitter falling-out, resulting in Dan Castellaneta voicing the Genie in The Return of Jafar and the Aladdin animated television series. When Jeffrey Katzenberg was fired from Disney and replaced by former 20th Century Fox production head Joe Roth (whose last act for Fox was greenlighting Williams's film Mrs. Doubtfire), Roth arranged for a public apology to Williams by Disney. Williams agreed to perform in Hollywood Pictures's Jack, directed by Francis Ford Coppola, and even agreed to voice the Genie again for the King of Thieves sequel (for considerably more than scale), replacing all of Castellaneta's dialogue.
When Williams re-teamed with Doubtfire director Chris Columbus for Touchstone Pictures' Bicentennial Man in 1999, Disney asked that the budget be cut by approximately $20 million, and when the film was released on Christmas Day, it flopped at the box office. Williams blamed Disney's marketing and the loss of content the film suffered because of the budget cuts. As a result, Williams was again on bad terms with Disney, and Castellaneta was once again recruited to replace him as Genie in the Kingdom Hearts video game series and the House of Mouse TV series. The DVD release for Aladdin has no involvement from Williams in the bonus materials, although some of his original recording sessions can be seen.
Finally, Williams reconciled with The Walt Disney Company and in 2009 agreed to be inducted as a Disney Legend and received from Bob Iger the Disney Legend Award.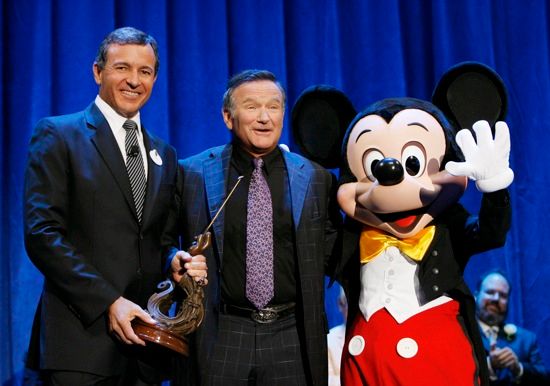 Four movies in which he played recently are currently in post-production and will be released soon, starting by Night at The Museum: Secret of the Tomb which will be released this December, in which as usual he plays Theodore Roosevelt! The others are: "Merry Friggin' Christmas," "Boulevard," and "Absolutely Anything".
Williams also did a number of stand-up comedy tours, beginning in the early 1970s. Some of his tours include An Evening With Robin Williams (1982), Robin Williams: At The Met (1986), and Robin Williams LIVE on Broadway (2002). The latter broke many long-held records for a comedy show. In some cases, tickets were sold out within thirty minutes of going on sale.
After a six-year break, in August 2008, Williams announced a new 26-city tour titled "Weapons of Self-Destruction". He said that this was his last chance to make cracks at the expense of the current Bush Administration, but by the time the show was staged, only a few minutes covered that subject. The tour started at the end of September 2009 and concluded in New York on December 3, and was the subject of an HBO special on December 8, 2009. You can see the whole show in the video below!
I will end with Robin Williams participation in a Disney park attraction and something which is less known, and it's about the now extinct DLP Visionarium attraction - aka From time to Time at WDW magic Kingdom. The Imagineers originally envisioned to give to the Timekeeper robot the face of Robin Williams - i have the rendering of it somewhere but unfortunately i can't find it back - as Robin did the english voice of the character. But for different reasons the Imagineers changed their mind. At the end Timekeeper's face had some reminiscences of Williams face although he didn't looked totally like him.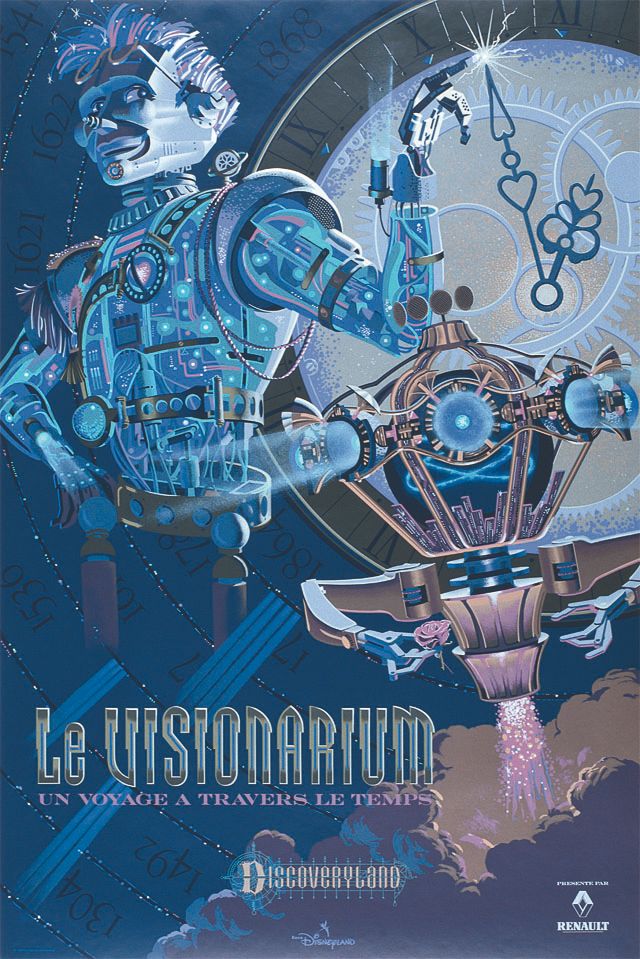 Robin Williams is now not anymore with us, i send my condolences to his family, and i wish to Robin the very best, wherever he is now. Let's give to Robin Williams the last word with what he said once on the TV program "Inside the Actors Studio," when he was asked, "If Heaven exists, what would you like to hear God say when you arrive at the pearly gates?"
After a joke about a concert including Mozart and Elvis, he added, "to know that there's laughter."
Pictures and videos: copyright Disney, Touchstone