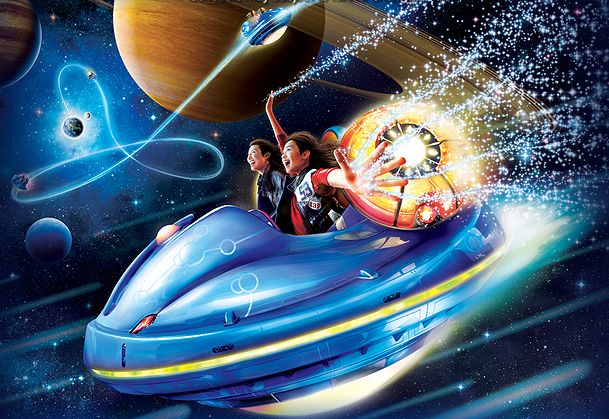 As i told you last week the 2014 winner of the prestigious THEA Award for "Outstanding Achievement Attraction" is Universal Studios Diagon Alley's Escape from Gringotts", an award that it fully deserves. And in 2013 the winner was HKDL Mystic Manor, which was also fully deserved. But who won the award in 2012? It was Universal studios Japan Space Fantasy a roller coaster ride which might loos a lot like Space Mountain - guests are sent across the universe and travel through galaxies but with such technical improvements that it is a kind of Space Mountain "on steroids".
I did an article about it four years ago but i found recently an excellent video filmed by Theme Park Review that you really must see, and that's why i'm coming back talking about this ride that most of you, not living in japan, may not know well. Below, what i was saying in my previous article to introduce the ride, but first the full ride POV video.
Space Fantasy is not a simple roller-coaster as it is a "spinning" roller coaster! Designed if i'm right by MACK each part of the train - in which guests sit back to back - is spinning during the ride, but not during all the ride. Described by Universal Studios as "a new ride to experience the Universe" guests are "departing from the Earth with the mission to save the Sun". According to the press release aboard the "solar shuttles" "You will have a close-up view of the stars and exploring through the asteroids, and experiencing the changing speed which varies along with the story. At the climax of the ride, you will encounter and go into the Sun!" So, it's a space themed roller coaster and just like at DL Space Moutain the ride is full of galaxy projection effects or even huge meteorites like at DLP.
Screamscape
who was the first to talk about it some months ago had a better description of the ride: "Once the guests departs from Earth, they will see the big beautiful planet Earth in all its glory, and once slowly moving further away from Earth into deep space, passes by Nebulas, and a Milky way like Star field that looks like a Water Fall, called, the Star Fall. Once they pass thru the Star Fall, they will go around the ring of Saturn, and through the shooting star showers, and other small planets, until nearing the Mercury, pass by Mercury, the guests close in to the SUN."
There is also some characters that guests discover during the queue-pre-show of the ride - including a talking communications satellite named "G-Bot", and a Solar Princess born in a supernova called Kosumia: "Kosumia knowing that the sun is losing energy, was holding a crisis. To save the sun, (she) realize that he (the sun) needed the human energy we have, that puts toward the sun appeal to guests." So, on a certain point of view it's a Space Mountain with a Japanese story-line, but that's not the problem.
The other technical innovation - which is also great - happen during the ride (and also during the queue) and is interactive. Designed by GestureTek this revolutionary 3D camera tracking and multi-touch systems takes visitors into the future of entertainment as "the ride is equipped with 3D cameras and projection systems. This lets visitors control the content on the screens around them by simple hand gestures, enabling them to collect "Stardust Clouds" from the LED displays in a 98-foot, in-ride tunnel"!
More about this amazing in-ride innovation from GestureTek press release: "Using 3D cameras that scan the surrounding environment and detect movement, GestureTek created an innovative and exciting way for guests to interact in free space with dynamic multi-media imagery in the pre-ride area. On the actual ride, GestureTek's touch-free multi-touch interface adds a collaborative element to the rider experience, so that guests can interact together with on-screen elements while working towards a common goal."
In the Pre-ride area "Space Entities Engage with Passers-By, Reacting to Users' Movements and Gestures. Visitors line up next to 85 feet of motion-driven 'Harmony Walls' designed to provide a unique and engaging interactive experience. Using an array of 22 integrated 3D depth cameras, 13 projection systems, a custom-designed tracker and 16 rack-mounted quad-core computers, GestureTek created an intelligent, vision-equipped environment where the heads of up to 66 guests and 132 hands can be tracked. The system's tracking capabilities track an entire audience and their specific gestures, providing visitors with the ultimate interactive experience."
"GestureTek managed the creation of fun custom content featuring animated intergalactic 'sun fairies' that tumble, fly, lead visitors and scatter in reaction to visitors' movements and gestures. "Our 3D tracking system can be configured to respond to a broad range of one-handed or two-handed gestures, including swipes, circular motions, pokes, waves and more," said Francis MacDougall, GestureTek's Chief Technology Offer. "The Space Fantasy attraction primarily utilizes intuitive pointing gestures, to guarantee easy and immediate user interaction, with no learning curve."
During the ride: "Riders Collect 'Star Dust' To Save the Sun". As part of the ride, GestureTek's multi-touch software and custom-designed camera array powers an interactive experience where, for the first time ever, riders can control content on the screens around them, simply by gesturing with their arms. The premise of the Space Fantasy ride is the impending death of the sun. As guests travel by cart up a 98 foot in-ride climbing tunnel lined with Barco LED display tiles, they can collect energy from the 'Stardust Clouds', that will be used to re-energize the sun."
"The tunnel ride is the first 'in-ride' device-free interaction that we have seen," said MacDougall. "GestureTek is one of a very few organizations possessing the in-depth knowledge of cameras, infrared and multi-touch required to isolate multiple hand movements while ride cars are in motion."
Let's end with two more videos which were included in the previous article.
Pictures and videos: copyright Universal Studios Japan
If you enjoy Disney and more, thanks for your support!