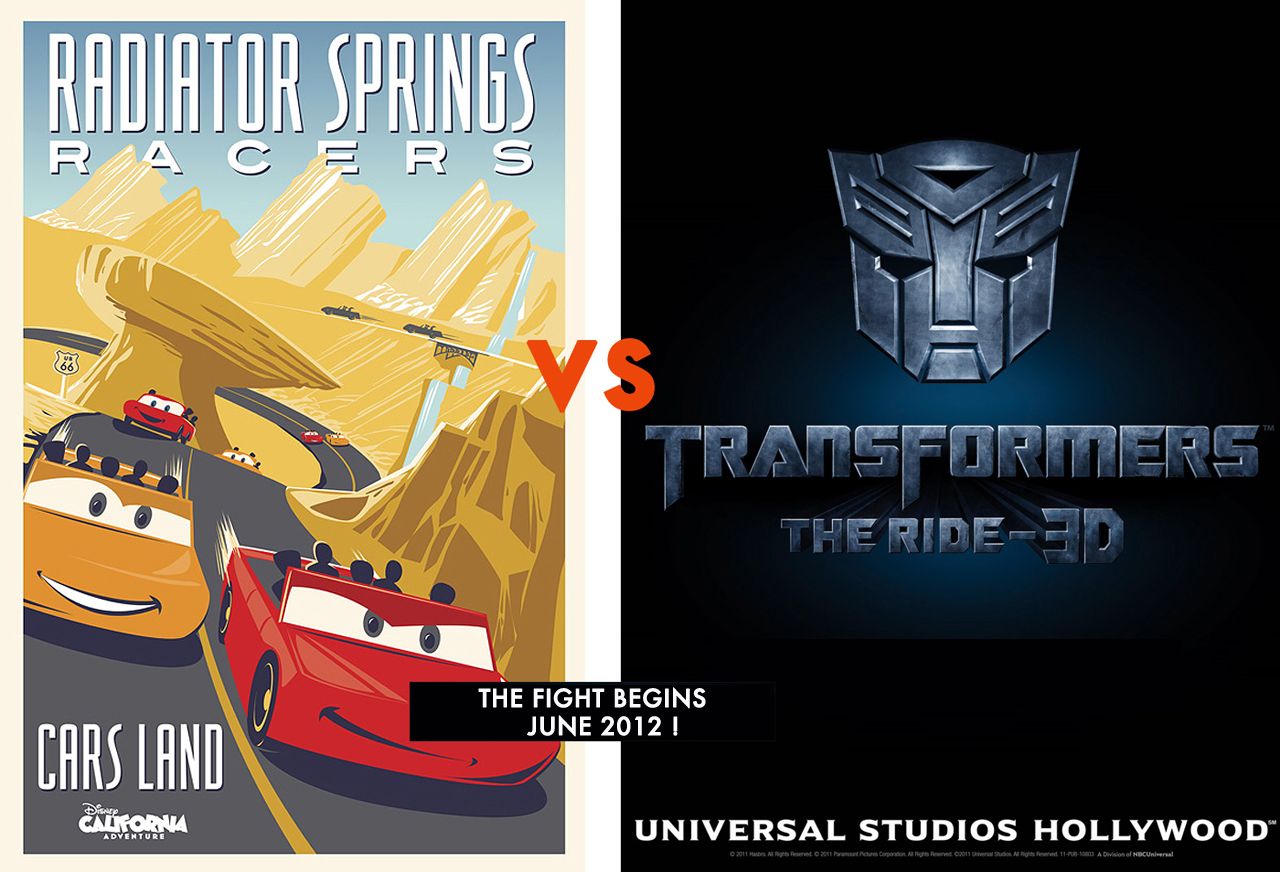 Something pretty unique is about to happen in a few weeks from now in South Cal. For the first time two major E-Ticket rides will open almost simultaneously and both rides are so good that i should even talk about them as "E+ Tickets"! The Transformers ride will have its Grand Opening on May 25th at Universal Hollywood while Cars Land Radiator Springs Racer will start on June 15. I had the luck to do recently the Transformers ride in its first version at USS - and in a few seconds i'll let you know all the good i think about it - and although i've never ride Radiator Springs Racer - nobody did except John Lasseter, Bob Iger and WDI Imagineers - i know almost all about it so i think i can also have an opinion or at least some feeling on this highly-awaited ride. And let me tell you that it's gonna be extremely interesting to watch what will happen in two months when both rides will be open as it surely will be "the E-Ticket match of the year".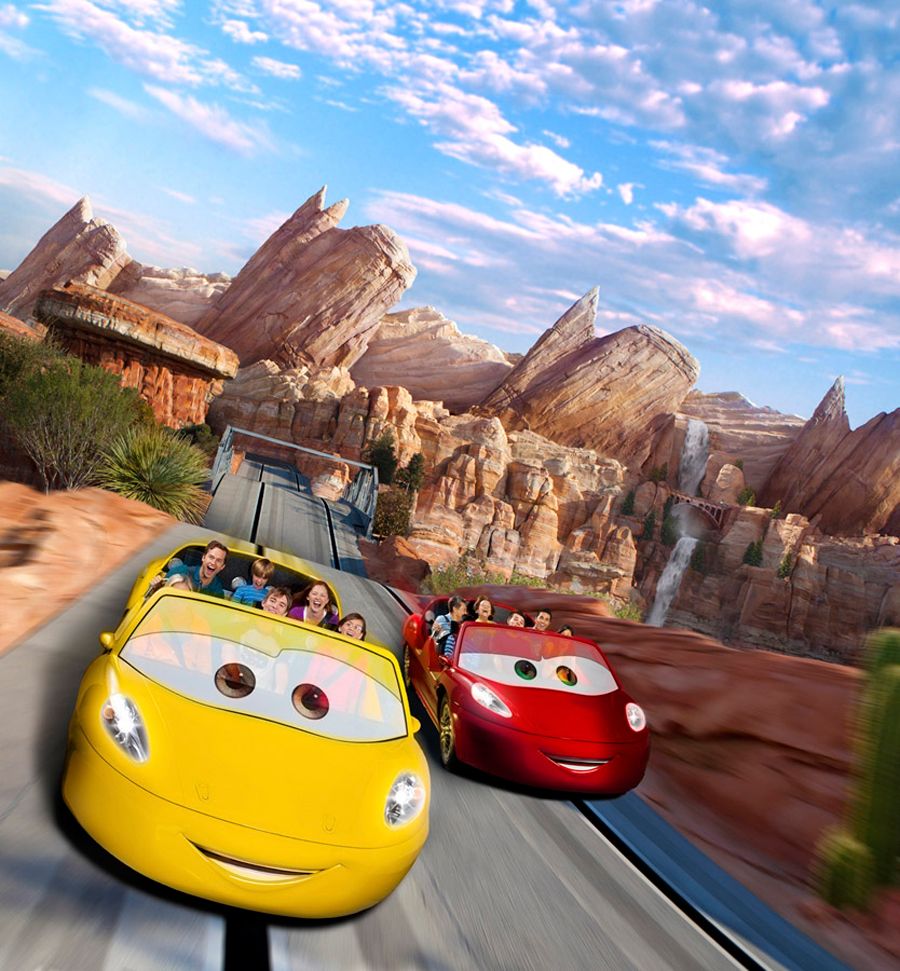 Soooo, on my left we have the "heavy weight" Radiator Springs Racer, one of the most awaited ride in Disney theme park history, part of Cars Land, a brand new land including two others rides, the creation of a town, and the biggest rock work that WDI Imagineers ever built. And RSC is even two rides in one with an indoor dark ride part and an outside part using more or less the Test Track technology. One of the big asset of Radiator Springs Racer on the Transformers ride will be that your Cars vehicle will move not only in real decor, but inside a world totally recreated. No 3D projections here, all is "real", and WDI Imagineers even created "automatronics" that should make the ride memorable and exhilarating for each fan of the Cars movies - and even those who are not.
You've seen pictures of the huge Radiator Springs mountains and even videos of the vehicles in test mode but you don't know a lot about the dark ride part of the ride. I won't spoil any of its scenes but what i can tell you is that the whole ride is essentially inspired by the first Cars movie and almost all of the characters from it will be in the ride. There is so many clever imagineering ideas in how they create the scenes that you'll be amazed, really. And also, your ride will not be necessarily
exactly
the same each time you'll ride RSR. And don't ask me why! There is absolutely no doubt that Radiator Springs Racer will be an instant success, and no doubt too that the ride is definitely a E+ Ticket ride, one of these major rides that we see in Disney theme parks only each ten years, or more.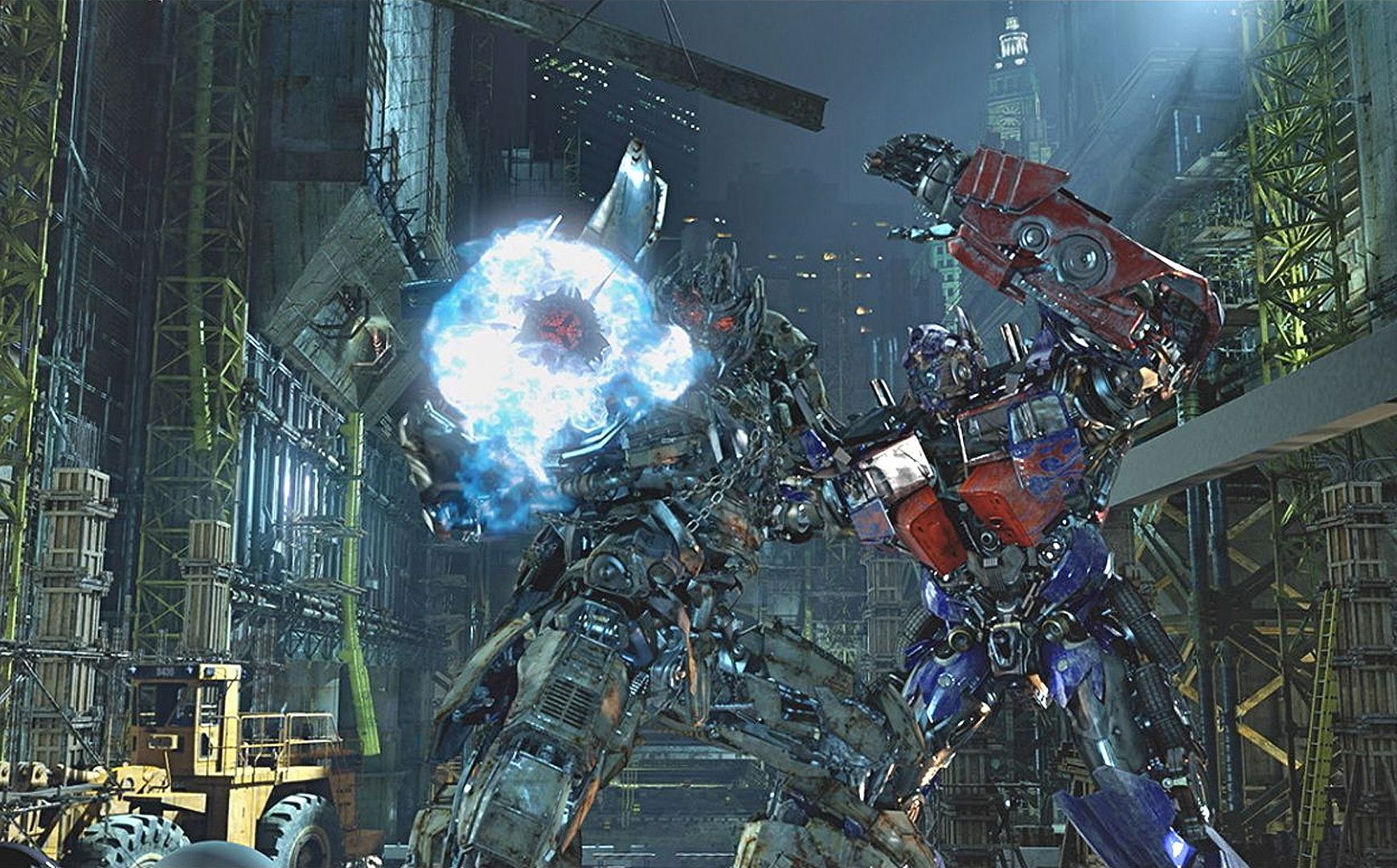 Now, on my right we have the "challenger", the Universal Hollywood Transformers ride. First, let me tell you that i'm not a big fan AT ALL of the Transformers movie. And also, i don't believe one second in any "Transformers mythology". For me these robots are just toys, and that's what they were at the start, and the whole thing for me is just a huge license operation. Which means that when i entered the Transformers ride in its USS version the Transformers mythology which is present in the pre-show didn't had any appeal to me. But the pre-show is so well done this top secret NEST military bunker with plenty of video screens explaining the ride's back story was designed so intelligently that i couldn't stop thinking that those who
do
care about Transformers are really going to love it. Note that you can see today pictures of the USH version pre-show in
Mice Age preview report HERE
.
And then it was time to get aboard EVAC, the ride vehicle, supposedly an Autobot transformer robot. As you know the Transformers ride use the same amazing technology that Universal used on the Spiderman ride, but improved. And - oh my God - "improved" is not a word strong enough to describe how amazingly good this ride is. Not only they indeed improved the 3D projections and the screens are even bigger too but you can feel that it was done with intelligence and that they were really decided to get the best from the technology. Wait until Optimus Prime tell you these simple words "Follow me!" and how you'll be amazed to watch your vehicle moving at high speed inside the city to escape the Decepticons. Of course it's all an optical illusion and your vehicle don't
really
move, but it's so well done that you'll really think that you're
inside
the screen, inside the city. Same when you'll be sucked into a whirling vortex generated by Devastator, another Decepticon created by several robots. Or when a F-15 fighter jet Decepticon will fling EVAC through the air, sending your vehicle crashing into a building - amazing, really! And i could go on and on as almost each scene of the ride - which includes not only 3D projections but also real decors and special effects - was done with intelligence - i mean, you can
feel
the intelligence behind it. And, good news, as
Screamscape
revealed last friday the Universal Hollywood Transformers version "will use Dolby 3D, the same incredible 3D system we first saw used on Star Tours last year, and which Universal also just put to use on the upgraded Adventures of Spider-Man at Islands of Adventure last month". In two words, the ride will be even better than the version which opened at USS last fall. Lucky Angelinos!
Considering that Radiator Springs Racer will be part of a whole new land and not a ride "only" as Transformers will be the match may seem unequal and that's may be the reason why the smart guys at Universal are opening Transformers three weeks before Cars Land opening - well, actually it might be even a month and a half before as it seems that soft-opening might start at USH at the end of April. Obviously Universal wants to create the buzz on their ride and count on all South Cal theme parks fans word of mouth to make a success out of Transformers. Honestly, as i've said, the ride is so good that people who will do the ride will probably, just like i did, have only one desire when they'll go out: to go back and ride Transformers again. And the same will happen for Radiator Springs Racer ! So, who will "win" this E-Ticket match of the year? Personally i think there will be no winner, the two rides are so good and so different that both will be a different and tremendously enjoyable experience. Depending of the kind of "world" you prefer you may prefer one or another, but one thing is sure: i strongly recommend you to ride both of them, as both will worth the price of admission!
Pictures: copyright Disney, Universal Studios