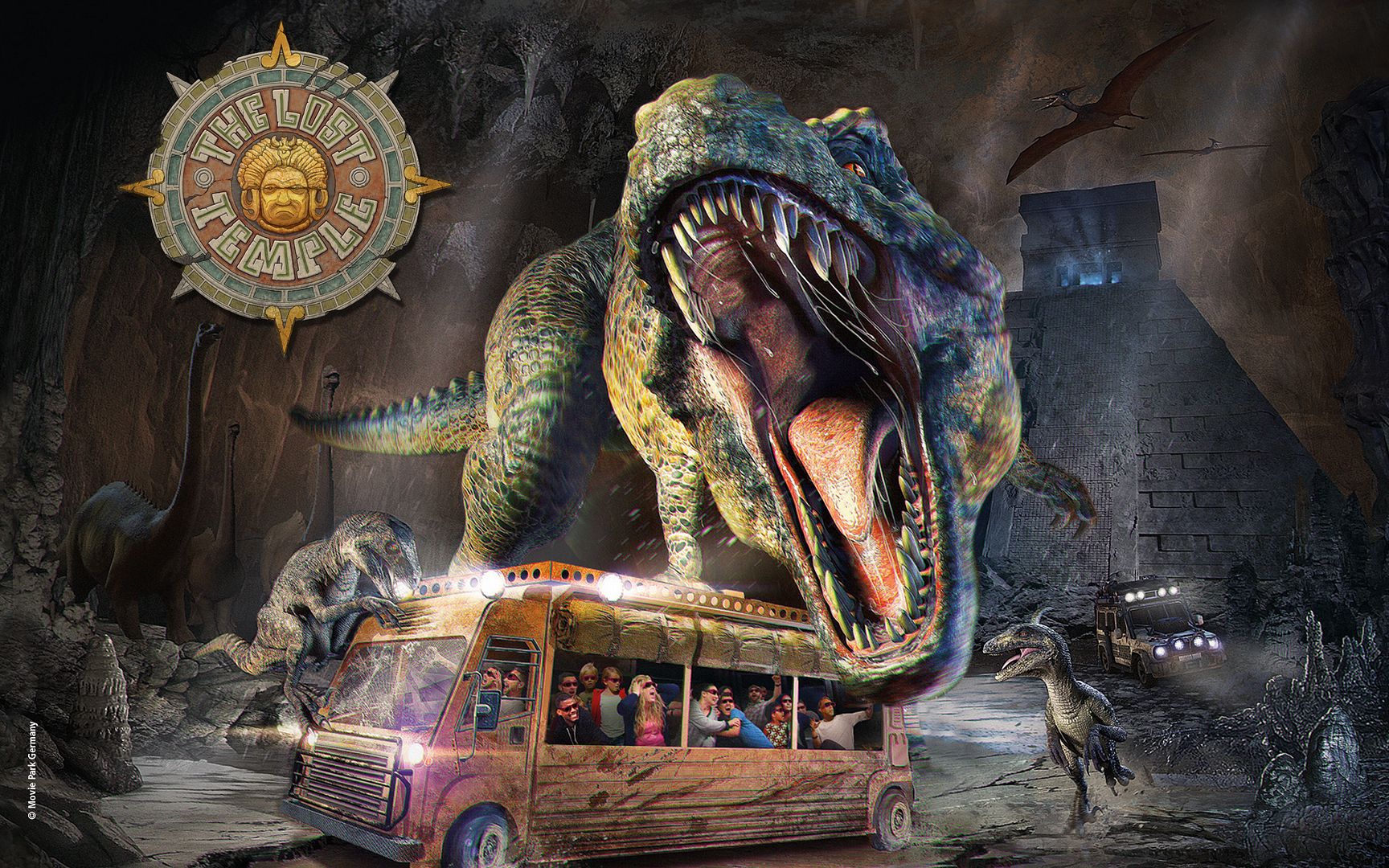 A new "major" ride opened recently
at Movie Park Germany
. It's called "The Lost Temple" and it's a ride that should delight both fans of a kind of "Indiana Jones" theming
and
fans of dinosaurs as the attraction takes you in the depths of a lost temple where dinosaurs are supposed to still be alive. Yeah, i know, said like this the plot seems a bit hard to swallow, but more about this in a few seconds.
Here is the synopsis and renderings as released by Movie Park on their website, and yes,
thanks to Screamscape for its link
, i've got also for you a video of the whole Lost Temple experience!
"Dr. Jeffrey Carter, the renowned archaeologist, needs help! Are you ready for an exciting new adventure? Then join the Movie Park Research Team!
But beware, in the depths of the park something has survived from the evolution ...
You'll go through a wild growing jungle full of dangers and surprises. Follow the team through impressive archaeological sites and dive into a fascinating, unknown world.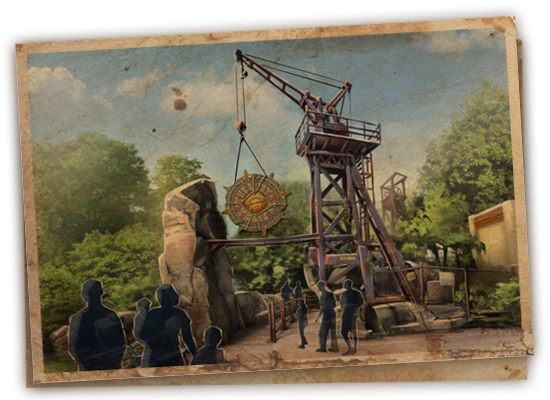 Old newspapers, boxes and an abandoned Jeep are evidence of the departure of the expedition team. Loud voices are heard. You will walk in... and be amazed!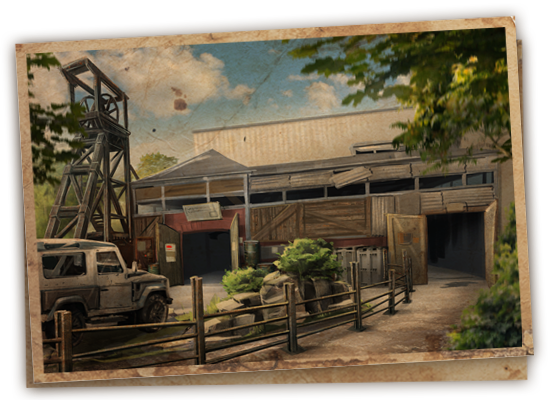 In the middle of the base camp you will discover numerous computer, archaeological tool, rocks and fossils and the highlight: a large, abandoned excavation site with the remains of a dinosaur ...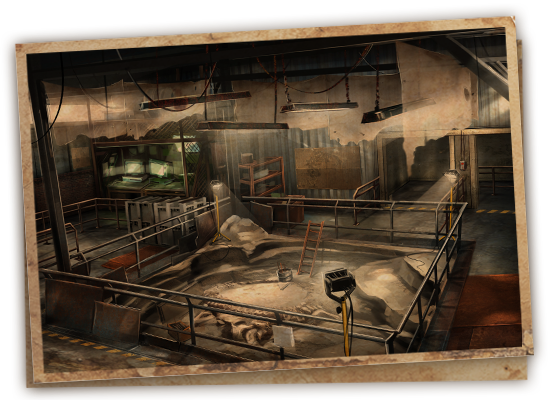 Curious? Then dare to continue and you will be sent in a large room full of wheels and rollers. On monitors members of the expedition team welcome you and prepare yourself for your journey into the depths of the temple!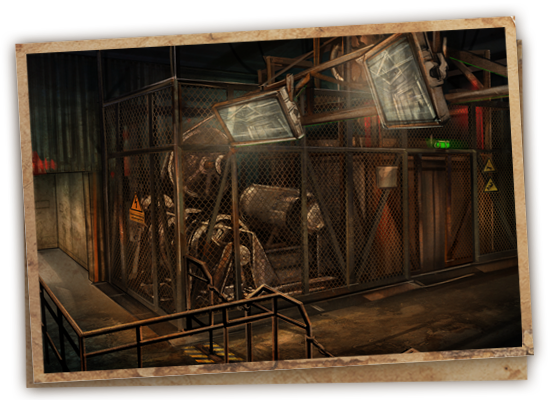 To access to the ride you'll take an elevator going down 700m depth. It is hot here and flickering lights show you the way forward...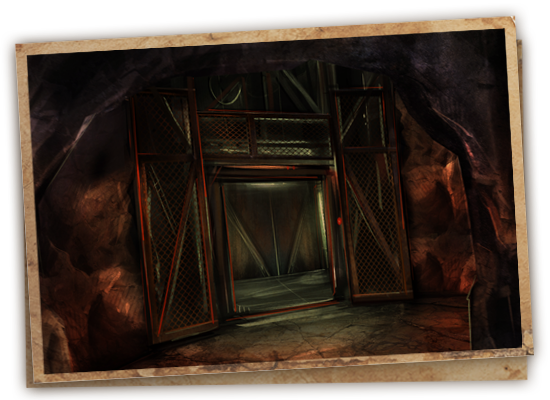 You lose your breath when you find out that you're searching directly in a huge temple vault. This artfully designed Mayan temple seems to keep some surprises for you. You marvel at the elaborate dinosaur paintings on the walls and move on reluctantly...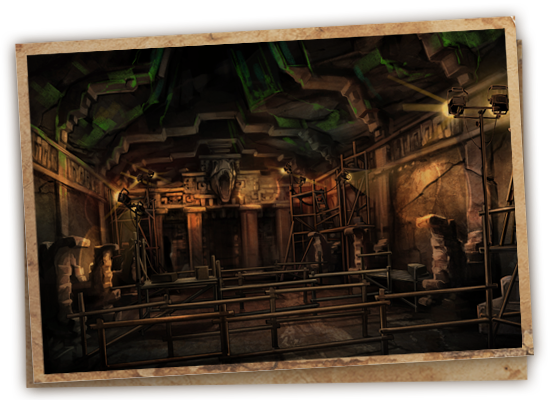 You now reach a large, drafty cave, discovered by the expedition team led by Dr. Carter. Quiet sounds, a mystical music, and suddenly you realize that you're walking through a huge dinosaur skeleton...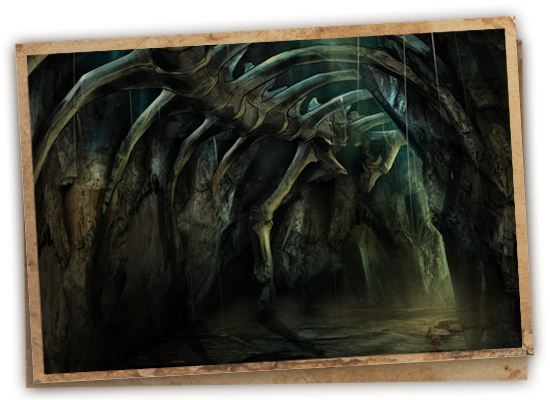 ... then into a beautiful room with sparkling crystals. Here you get the last safety instructions before you embark for the grand finale.
But shortly before the expedition you hear a dramatic cry for help from Dr. Carter: His Jeep seems to be gone astray, large shadows flit across his face and it's not a good omen ... Now you're called to save Dr. Carter and his research team.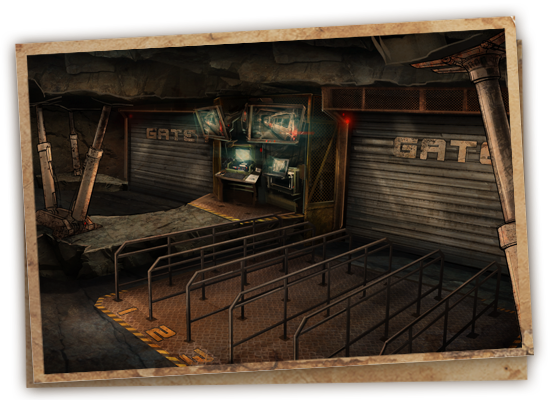 As you face two huge gates before you, it is now finally happening. Together with your team you step into the expedition buses and make yourself on the way. The adventure of your life begins now!
From this point, the vehicle will move into an "Immersive tunnel" with state of the art 4-D technology with a 360-degree screen - and it sounds to me that they use the same technology than Universal for the highly popular King Kong 360° 3D. With a length of 23 meters the guests are in the middle of the action and are in for a thrilling ride, with the interaction of 3D film, the movements of the expedition buses, and on ride effects such as wind, lights and scents, all making "The Lost Temple" a unique overall experience.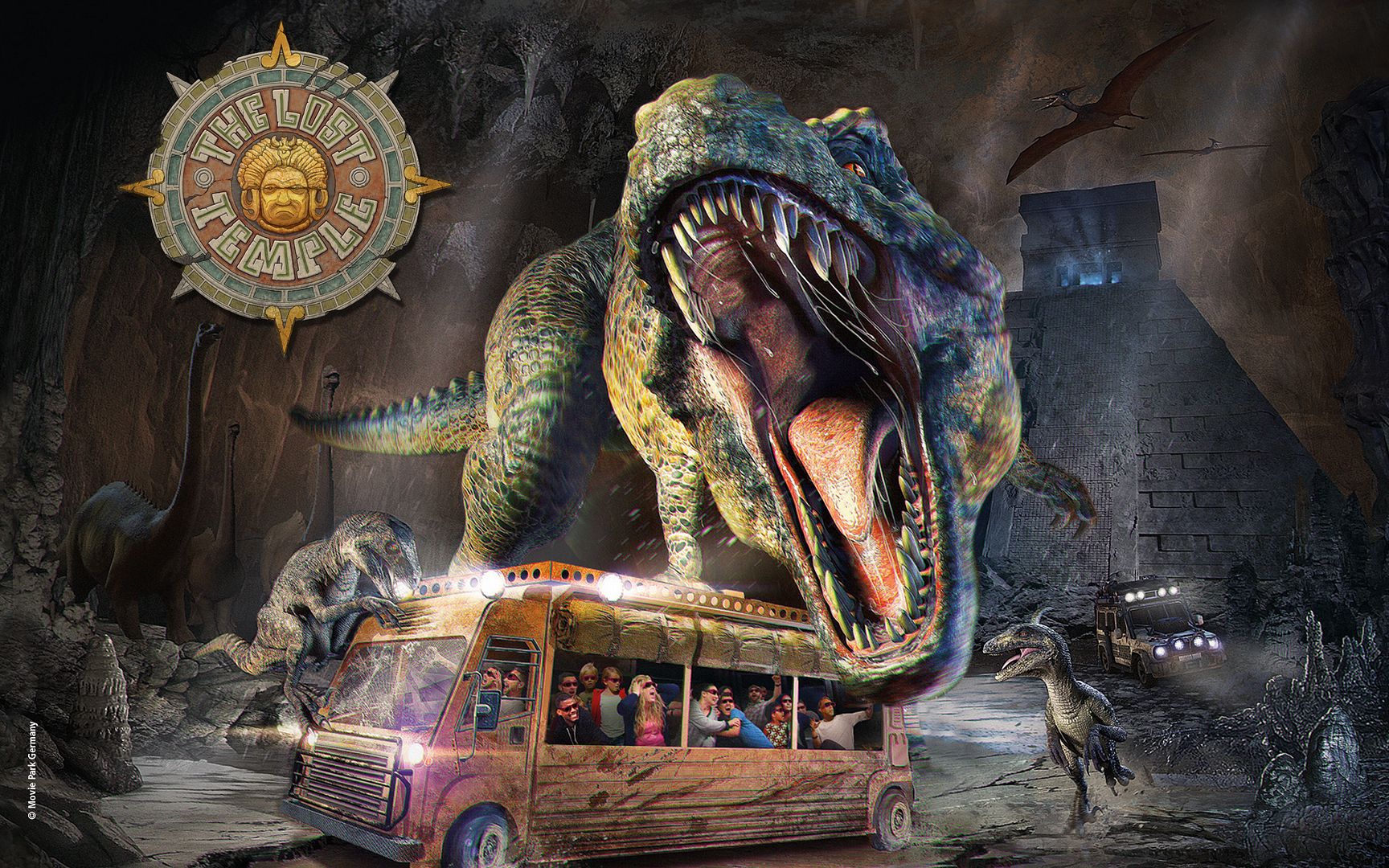 Now, here is the video of the full experience
filmed by Worldofparks.eu
. It last 18.42 minutes but they've filmed everything from the pre-show and decors inside the temple as well as the ride itself, so you'll see everything. And, almost the most important: make sure to see the video to the very end as there is a VERY good idea happening after the ride is over, and on the way out!
Now, those of you who are faithful D&M readers might remember when i introduced my big E-Ticket Dinosaurs attraction project designed with my good friend Jeff Burke, who was DLP Frontierland show producer. Basically, in my concept, guests were entering a "lost" Mayan temple and were sent back in time - for reasons that were explained in the full script
that you can read HERE
.
Although the two rides are different - the mix of dinosaurs within a Mayan temple is present in Movie Park "Lost Temple" and i'm pretty sure that someone who designed this ride has seen my concept. Some ideas have been "borrowed" but the whole story is treated differently. I find some reminiscences in "The Lost Temple" of some of the scenes that were in my concept or at least some ideas, but i'm not gonna sue them for that, not only because it's a different ride but mainly because i've got better things to do. But watch the video first and then check
with my Dinosaur ride concept HERE
. Again, the story line is different but some of the good ideas that were in my concept - and there was a LOT of good ideas in it - seems to haven't been lost for everyone, to stay polite...
Here are some artworks which were part of my concept.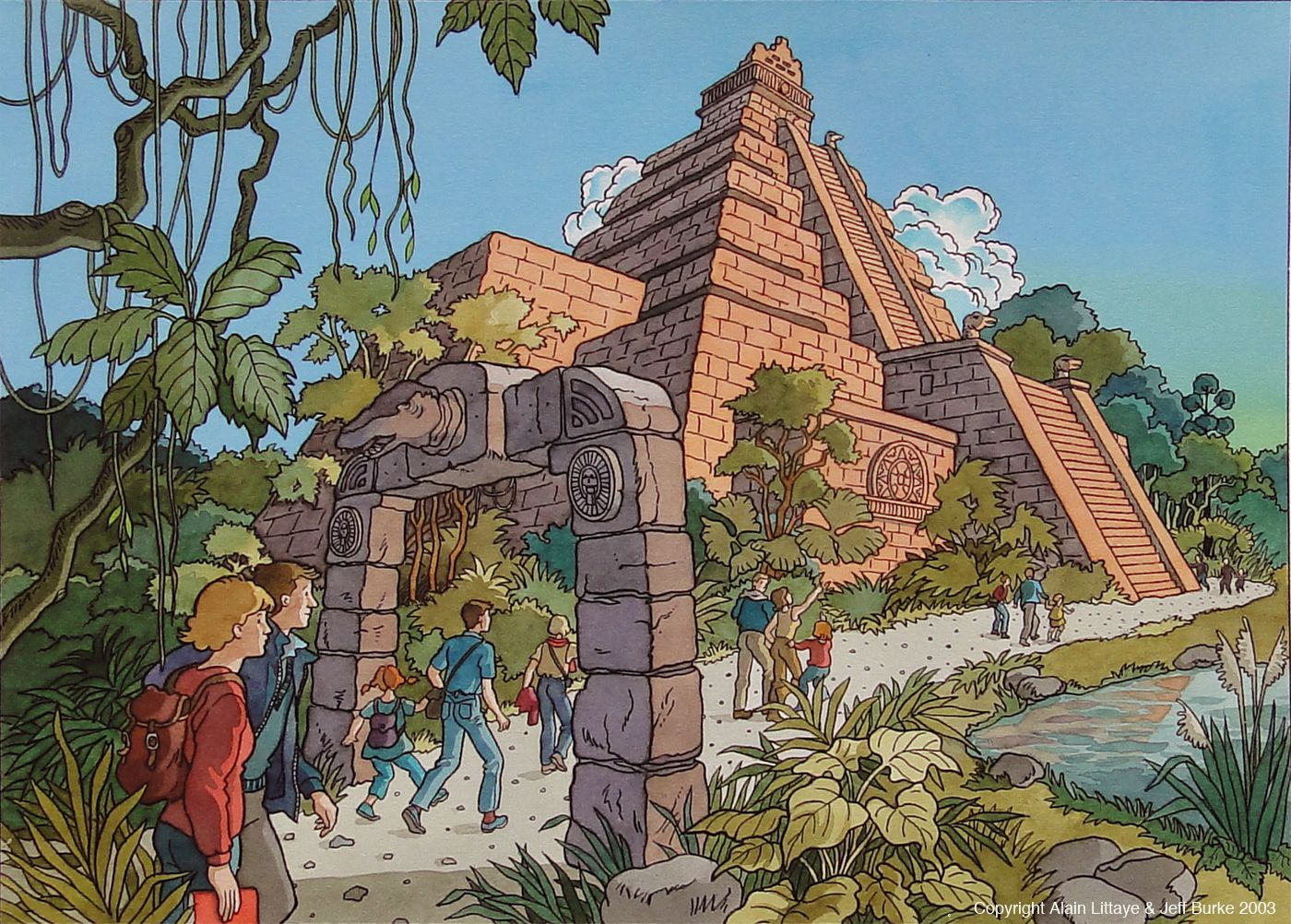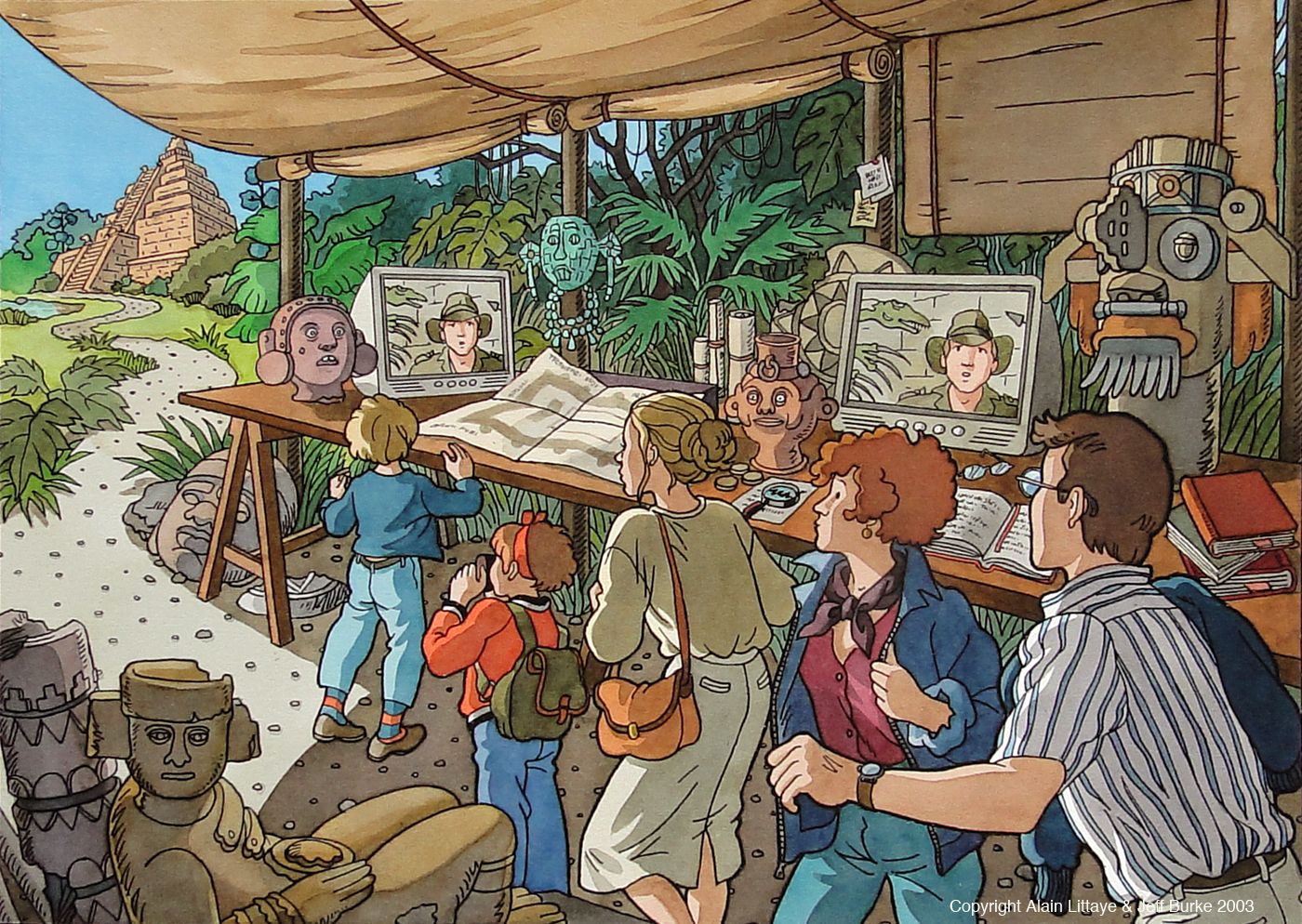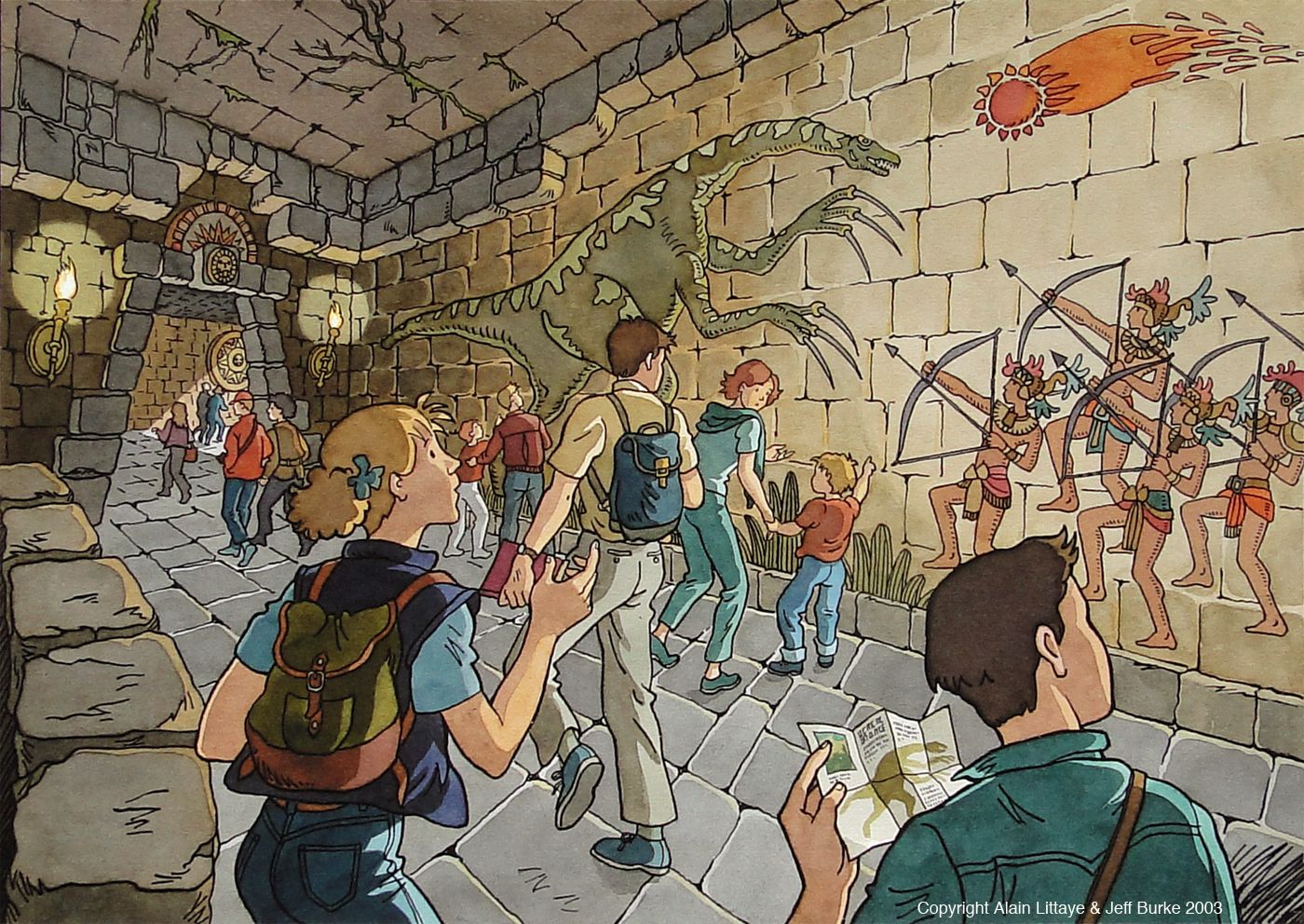 Anyway, after the "Van Helsing's Factory", which has set a high bar in terms of theming and storyline when it opened in 2011, Movie Park is back with an epic state of the art attraction which looks great. "The Lost Temple" is now open, so let us know what you think if you go to ride it!
Pictures: copyright Movie Park Worldofparks.eu
Video: copyright