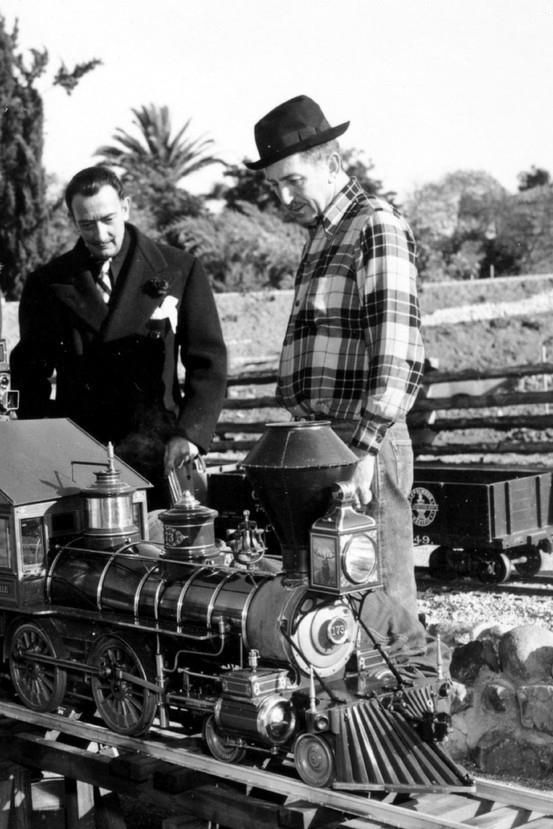 A little bit of mind reading for this week-end! On the picture above, shot a long time ago, you can see Walt Disney and Salvador Dali at a time they were working on the Destino project. Walt is showing Dali his beloved Lilly Belle locomotive, and the photo was more than probably shot in Walt's garden in California. The picture is interesting because of Dali. Look at him closer, and even enlarge the picture to "feel" him perfectly. Obviously, Walt presents to Salvador Dali one of his passion - in this case, the trains - and you can feel that Dali is listening to him kindly and politely, just like you'll do if you listen to someone talking about a passion that you don't particularly share.
But there is something else which is happening. If you look at Walt, he looks like someone who is addicted to something that he knows is a bit infantile but can't "kick out the habit". And you can feel that Dali have the vision of it. But because Dali was always interested in any kind of madness, even "soft" one like Walt's passion for trains, and because Walt and him were sharing a structure with a lot of "fire", he don't say anything, he just have a little tender smile.
Native americans of late 18th century were reluctant to be photographed because they thought that a picture was stealing the soul of a person, and they were bloody right!
Picture: copyright Disney